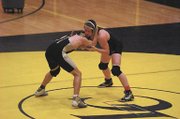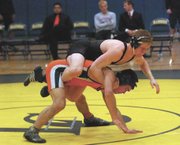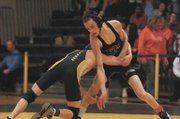 It looked as if Ryan Hagen's bid for a Region II wrestling title was in serious peril in the latter stages of his 152-weight-class finals match against Josh Shaffer of James Wood High (Winchester) last Saturday night at Park View High School in Sterling.
Hagen, a senior member of the Potomac Falls High squad, trailed 4-2 well into the third and final period. But, stunningly, Hagen made a "desperation" move, as he called it, that suddenly had his opponent reeling and on his back. It turned out to be the winning move for Hagen, who built up a load of back points over the final seconds of the match to win, 7-4.
"It feels awesome," said Hagen, moments following his title win. "All the hard work has paid off."
The victory clinched Hagen's first-ever region title and gave him tons of momentum going into this weekend's Virginia State Championships in Salem. Hagen, who two weeks ago captured his second career Dulles District crown, had finished fifth at regionals each of the past two years before Saturday's breakthrough.
The desperation move that so quickly turned around the finals match is called a "spladle." Hagen, who was on the ground and behind Shaffer, utilized the gem by getting his legs around his opponents' head. He then was able to get both of Shaffer's legs turned and then got him onto his back. For the next several seconds Shaffer was in a helpless position as Hagen racked up the points that allowed him to overcome his deficit and pull ahead for good.
When the final buzzer sounded, there appeared to be some controversy as James Wood coach Greg Walker requested a conference with the referee and scoring officials. For several seconds, the two wrestlers simply looked on, waiting to see the official outcome. Then, the referee indicated Hagen was the winner.
"I knew I should have been the winner," said Hagen of his thoughts following the end of the match. "He was on his back for [at least] 10 seconds."
Of his late scoring flurry and winning move near the end of the match, Hagen said, "It was kind of a desperation move. It's effective if you can hit it."
Hagen (47-8) had lost both of his matches to Shaffer (43-8) during the regular season. But Panthers' head coach Rob Puterio would not allow him to grow discouraged in regards to those losses.
"Me and Shaffer have had a couple of close ones this year," said Hagen, who has 107 career varsity wins. "Coach has been telling me the entire season that if I keep pushing, I could beat him."
Now, it's on to Salem for Hagen, who will be competing at states for the first time.
"I'm happy to be there," he said. "I'll give it my best shot."
Hagen reached the region finals with wins over Ayden Cousins (Western Albemarle), Levi Huston (Skyline) and, in the semifinals, Jeff Crawford (Sherando), 7-0.
<b>WHILE POTOMAC FALLS</b> did not have any other champions or finalists at regionals, the Panthers did have one third-place finisher in senior Charlie Haislip (140 division).
A year ago as a junior, Haislip's season came to a premature end when he broke his collarbone during a mid-January match. The injury resulted in Haislip missing the entire postseason. As difficult as that experience was, it proved quite a motivator for Haislip, who worked hard throughout the summer and offseason in preparations for his 12th-grade year.
And what a season this has been for Haislip (38-8), who has remained healthy throughout the winter on way to a Dulles title two weeks ago and the stellar third place showing at regionals on Saturday.
"I hated sitting and watching the postseason," said Haislip of last year's abrupt ending. "I lifted [weights] a lot more during the [past] summer."
He went into last week's two-day regionals with a primary goal of making it to the finals. He opened the tournament with an 11-7 decision win over Shafick Ntenda (Charlottesville), but then fell into the loser's bracket with a 13-6 loss to Corey Chipman (James Wood). From there, Haislip went on a roll, winning his next four matches out of the loser's bracket to garner third place. The wins came over Tyler Wolf (Western Albemarle) by forfeit; Alex Via (Monticello) by pin; Matt Morningstar (Warren County), 9-6; and, in the match for third place, Mike Surowiec (Freedom) by a second-period pin.
Haislip, who had also wrestled and beaten Surowiec, 18-6, in the district finals, fell behind the Eagles' wrestler, 2-0, about halfway through the second period of the regional match. But moments later, Haislip rolled Surowiec onto his back and got the pin with 49 seconds remaining in the period.
"I had wrestled him before in the district finals last week," said Haislip. "He came out today and was wrestling real tough and he got up on me."
Haislip has won numerous matches by pin this season and did the same to his Freedom opponent.
"I don't like to go six minutes," said Haislip.
The victory capped off a huge loser's bracket run for the Panther senior.
"Coming into regionals, my goal was to be in the finals," said Haislip. "That isn't what happened. But in the postseason, what's important is moving on."
And Haislip will be moving on to states this weekend.
Three other Potomac Falls wrestlers — Nick Rea (103 division), Michael Oswald (135) and Josh Belin (145) — each qualified for states with fourth-place finishes at regionals.
Top-six finishers at regionals earned medals. Paul Rowane of Potomac Falls earned a fifth-place medal at 125 division.
In the region team standings, Potomac Falls finished fifth overall out of 23 teams.
The Panthers finished with 103 points. The team champion was Millbrook (156.50) of Winchester, followed by second-place James Wood (155), third-place Sherando (140) and fourth-place Louisa County (110) of Mineral.
Loudoun County teams Briar Woods, Heritage (Leesburg) and Freedom finished sixth through eighth, respectively, behind fifth-place Potomac Falls.
<b>PARK VIEW'S</b> Stephen Penna captured the Region II championship in the 112-weight class. Penna (47-6), a senior, won his finals match over fellow senior Ryan Bono (Millbrook) by major decision, 12-3.
Penna, who finished second at the Dulles District Championships two weeks ago, opened the scoring in the region finals with a standing takedown in the final seconds of the first period to go ahead 2-0. Bono (48-11) tied the match in the opening seconds of the second period. But moments later, Penna turned Bono onto his back. He did not get a pin, but had built up a 7-3 lead by the end of the period.
Penna got another standing takedown 40 seconds into the third period and went on to the convincing title match win.
"There are no real words to describe it," said Penna, of garnering the region crown. "I worked as hard as I could [all season] and gave it my best effort."
Penna, who finished fifth at regionals last year, was determined to win the title this year.
"Being a senior, I figured I have put four years into this. I'm not going to ruin it now," he said.
Penna reached the finals with wins over Joe Bass (Skyline), Perrin Mills (William Monroe High of Standardsville) and, in the semifinals, Gage Swartz (James Wood).
Briar Woods' TJ Julia, who defeated Penna in the district finals two weeks ago, finished third at regionals.
Penna, who plans to study the art of cooking at the Culinary Institute of Virginia next fall, is ready to move on to his first-ever state tournament this weekend in Salem.
"I've never wrestled at states," he said. "From what it looks like, it's a whole 'nother ball game."
Dominion High had two wrestlers earn fifth-place medals at regionals. They were Zach Newman (112) and Robert Shaw (130).