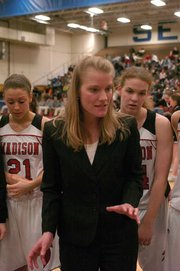 At the beginning of the year, Madison head coach Denise Weinig joked that if her Warhawks didn't come away with a Liberty District title this year, then she should be fired. That is how highly that Weinig regarded her five returning senior starters. With the district tournament beginning this week, Weinig feels pretty comfortable with her job security. The Warhawks have put together a 21-game winning streak and are 14-0 against district opponents heading into the Liberty District tournament.
"That was our expectation. I truly believed that we had the most talented and experienced team returning in the district. I think that our first-place finish wasn't a surprise," said Weinig, whose Warhawks earned the first seed in the tournament.
After losing their first game of the year to Centreville, the Warhawks (21-1 overall, 14-0 Liberty) have used that loss game as a rallying cry.
"We are still trying not to let the Centreville game happen again," said senior Marygrace Jay, who averaged 14.7 points per game with 8.1 rebounds during the regular season.
The Warhawks are entering each game expecting to win. After losing in the Liberty District final to Marshall for the past two years, losing again is not an option.
"We are going in preparing to win the district title. We are not going to be taking it easy on any team," said Jay. "We have our confidence up. How could it not be?"
Added Weinig: "Our goal is to be there Friday night, celebrating a district championship. I think that we will not feel successful unless we have that district banner, no matter what kind of noise that we make in the region."
Just a few miles away, the Oakton girls basketball team is preparing for their own run in the Concorde District tournament. The Cougars just wrapped up their fifth straight Concorde District regular season title with a 42-40 overtime win over Centreville on Friday night.
"We try not to make too many concrete goals [at the beginning of the season]," said Oakton head coach Fred Priester. "The only one that we do make is that our first goal is to win the district. What makes that a little bit easier is to win the regular season."
In the 14 year history of the Concorde District, the Cougars (20-2, 11-1) have won the regular season title 11 times and have followed up to win the tournament title nine times.
"Tradition – some people think is a burden. We think that it is a privilege," said Priester, whose squad secured a spot in the Northern Region tournament with their first-round bye.
Along with the Warhawks, Priester believes that his Cougars are confident heading into the tournament.
"The kids feel real good," he said. "When you finish first after playing 12 games, there is something to be said about that. There is something that is important about that."
If the Cougars get too cocky, however, all they have to do is look back to their Jan. 29th loss to Westfield.
"It is important to see that it doesn't always work the way you want and you have to always keep your eye on the prize."