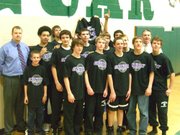 <b>Clubb Receives All District Honors</b>
Ryan Clubb, a Thomas Jefferson senior and resident of Centre Ridge, was selected to the Liberty District Men's Basketball All-District Defensive Team. Ryan a 6'1'' guard is a two-year starter and team Captain. He led the region in the regular season averaging 4.1 assists per game. He was the Digital Sports Assist Player of the Week on three occasions and Defensive Player of the Week twice. Ryan set single game school records in assists with 10 against Marshall HS and steals with 6 against WT Woodson HS. Clubb recorded the second highest number of assists in a TJ season at 83, and the third highest number of steals in a TJ season at 34. He finishes his career at Jefferson third on the all time career steal list at 52, third on the all time assist list at 112, and sixth on the all time rebounding list at 122. Although unsure of his future college and basketball plans, Ryan has already been accepted to Virginia Tech's engineering college and is awaiting word from Carnegie Mellon University, Cornell University, Washington University in St. Louis, and the University of Virginia.
<b>Chantilly Freshman Boys Undefeated</b>
The Chantilly boys freshman basketball team recently completed an undefeated season and won the Concorde District title. The freshman Chargers join the Chantilly girls freshman and boys junior varsity teams as undefeated teams. The Chantilly girls junior varsity team finished the season with a record of 15-1. All four teams earned at least a share of the Concorde District title and finished with a combined record of 63-1.