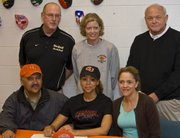 Westfield senior Amanda O'Neill has signed to play basketball next year at Division I Campbell University. O'Neill, who was a first-team all-Concorde District selection last season, averaged 11.3 points, 4.8 rebounds, 2.5 steals and 3.2 assists.
O'Neill also contributed with her defense, being named to the Concorde District All-Defensive team and was selected to the Northern Region All-Defensive team last season. A four-year varsity starter, O'Neill's Bulldog squads finished with a combined 73-28 record.
The Campbell Camels finished 12-18 last year and 7-9 in the Atlantic Sun Conference.