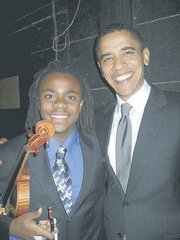 Joshua Coyne is a 14-year old Potomac resident who performed at the Barack Obama "Stand for Change" rally in Baltimore on Feb. 11.
Where did you grow up?
I was born in Kansas City. I was adopted when I was two years old. I lived in Cedar Rapids, Iowa from the time I was adopted until I moved to Maryland the summer before I started seventh grade.
Tell us about your family.
There are four people in my family. My mom, Jane, is also a musician and she works in the arts. I have an older brother, Jason. Jason studied economics, Japanese, and computer science. He lives in Chicago and is a programmer. I have twin sisters, Rebecca and Abigail. They are 18, and my mom adopted them when they were four years old. Abigail is a very good artist, and Rebecca loves dance and anything pink. We also have a dog named Pokey.
We have a very fun life. We used to live in a huge house in Cedar Rapids, Iowa. Now we live in a little townhouse in Potomac. We love it here. It's kind of like the movie, "Music from the Heart." We spend virtually all of our time involved with music. We love Strathmore, the Baltimore Symphony, Washington Performing Arts Society, and National Philharmonic, the Kennedy Center, the NSO and all the other amazing music in this area. I'm a member of Maryland Classic Youth Orchestras, and I also perform on my own very frequently.
My mom and I are working on an idea we call Musicians for the World, and we spend a lot of time advocating for the arts and arts education. I perform for many embassies and humanitarian organizations, trying to support communication and peace among people in the world, and that is very rewarding for both of us. We meet people from all over the world, and see how hard so many people work to make the world a better place.
Favorite school subject
I go to Winston Churchill High School. History is my favorite academic subject. My teacher, Mr. Forney, is very knowledgeable, as well as interesting. I think that U.S. history is very enticing, especially the way Mr. Forney teaches it. I'm sure government and world history will be very interesting too. I'm taking those subjects over the next two years.
Orchestra, and actually music in general, is of course my favorite subject in and out of school. I'm very lucky to work with Mr. Levin and Mr. Sanz at Churchill, and last year I really enjoyed working with Mr. Herman at Cabin John Middle School.
I'm also very lucky to have many opportunities to learn music outside of school. I have an amazing violin teacher, Lya Stern. I couldn't ask for a better teacher. I'm a member of Maryland Classic Youth Orchestras, and just recently was accepted as a member of MCYO's new chamber ensemble. We're going to perform with Daniel Bernard Romain (DBR) at Strathmore in March. I'm also being mentored in composition by Marvin Hamlisch. He asked me to compose a work for violin and orchestra, and it has been incredible having the opportunity to work with him. I also go to the Baltimore Symphony concerts at Strathmore as often as I can. I think Marin Alsop is a great conductor, and I love the way she talks to people after every concert. Anybody who really wants to learn can ask her anything. I have enjoyed getting to know her, and I'm actually composing something for her right now.
What do you want to do when you get older?
I would like to be a composer, and I want to play violin. I want to compose for cinema, television and Broadway. I really admire people like Marvin Hamlisch, John Williams, Andrew Lloyd Webber and others. They are amazing composers and hugely talented musicians, who are able to compose, perform and conduct. They do it all, and I hope I can keep learning and developing all sides of my music, so that I can do the same.
Actually, I'm already composing and performing. I'm just starting out, but a lot of very talented people are helping me. I have a lot to learn, but I love doing what I am doing and hope to be able to continue doing this for all of my life. There are never any guarantees in music, but I am going to work very hard so that I can spend my life doing what I love to do.
Awards and achievements:
To be honest, I'm not that interested in awards. I get them, particularly in music. I'm an honor roll student, and I work hard to be one. I need to earn a scholarship to college, so I am trying to earn one by being a very good musician, by getting the best grades I can, and by using who I am to help others. I once won a NAACP award for using my music to raise funds for a homeless shelter in Cedar Rapids, and I was very proud of that. I just work hard everyday to earn the privilege of continuing to do what I love to do. My reward is in getting to do what I love.
The thing is, I really believe that all people have talent. I get a lot of credit for my musical talents and achievements, but I know many talented musicians. I also know many people who have amazing talents in other areas. I'm interested in getting to know other talented people and in working with them to make the world a better place for everybody.
What are your hobbies?
I don't really have hobbies. I am doing what I want to do, so my work is my play and my play is my work. I'm just always working on my music, because that's really what I want to be doing.
When I'm not seriously composing or playing my violin, I usually end up involved with music anyway. I love to play in pit orchestras. I played the pit for "Kiss Me Kate" at Churchill this year, and I played principal violin for "Les Misérables" at The Theatre Lab in D.C. last summer. I play piano, alto and tenor sax, mandolin, viola and guitar, so I play those instruments for fun. I'm trying to learn about each instrument, so I am composing pieces for each one just to really learn more about each of them.
Of course, I have a lot of friends. Some of them are musicians and others are not. So, I watch a few Redskins games, go to school dances, go to movies, ride my bike, and hang out with friends just like any kid does.
Favorite place to hang out in the community?
I love my backyard, because there are a lot of great kids who live right where I do, and we can hang out together without needing to get rides from our parents. I also like riding bikes and taking walks on the canal. I love to eat at Jade Billows in the Cabin John Mall, and I love to be at school. I think it's fun to walk around in Bethesda and Georgetown, and of course I spend huge amounts of time at Strathmore and the Kennedy Center. I love meeting people from all over the world, and they are everywhere.
What are some ideas you have on ways to improve your community?
I live in Potomac. There's very little wrong with it, and I love it. I don't know if it's doable, but I wish there was a way to put on more free classical concerts so everybody could hear and enjoy great music. I am also working very hard to support arts in the schools. My mom and I are trying very hard to raise money to do this, and we're working with other people who are trying to do the same thing, because we both think that all kids need the arts and benefit from the arts. I think we all have a responsibility to make our community the best that it can be. I'm only fourteen, but I try to help in the ways I can, and in areas where I think I can do some good.
What is the last book you read, favorite television show and last movie you saw?
The last book I read was "To Kill a Mockingbird." My favorite book is "The Giver." My favorite television show is "Family Guy." My favorite part of the show is the music, composed by Walter Murphy. The last movie I saw was "Untraceable." I have so many favorite movies. Recently, I enjoyed "The Debaters." I always listen to the music scores in movies. I loved the score for "Atonement." It was composed by Dario Marianelli.
What is your favorite (and least favorite) thing about school?
I really love school. Sometimes, people don't believe me, but I really don't like it when school is cancelled. I do enjoy free time, but I love learning. I love seeing my friends everyday and having friends from all over the world. I have some great and inspired teachers and I really look up to them.
Actually, I am almost always happy at school. I don't like it when teachers have days when they don't seem excited about teaching or being with kids. Like everybody else, I wish all kids could get along and that school lunches would be amazing, but I'm really not unhappy about school in anyway.
Where do you see yourself in five years?
I see myself in college or at a conservatory studying. I also see myself composing and performing, just like I do now. I work everyday to become a better musician, so I hope that I will be doing more of what I am doing now and doing it better. I'm studying French, and I want to learn other languages that will help me to communicate with people who do not speak English. I think music belongs to everybody, so I hope that I will be sharing music everywhere I can and that I will be helping others just like so many people have helped me.
What are you looking forward to about vacation from school?
Over spring break, I'm going to Italy with my school orchestra. I can't believe I am actually going, and I can't wait!
This summer, I'm going to study at the College Conservatory of Music in Cincinnati. I have also applied to the NSO Summer Institute and to Chautauqua, but I won't know if I am accepted until later this spring. If I have time, I would love to go to the ocean, and I hope to see all of my extended family in Cleveland, Chicago and Wisconsin. Other than this, I'll be working on my music or at the pool with friends.
Which historical figures would you like to meet?
There are three. I would like to spend some time with Martin Luther King, because he was a leading figure for the civil rights movement. I would love to be with Duke Ellington, because I love his music. He composed jazz, classical, opera, masses, and more. My mom is a singer, and she used to sing with him. My sister Rebecca's middle name is Ellington, after Duke Ellington. It would be amazing to spend time with George Gershwin. His type of music is the exact kind of music I aspire to compose. It's such great music! Gershwin inspires me, and I would like to talk to him about where he got his inspiration.
I think it's very fun to meet interesting people while they are living, too! I have had opportunities to meet many of my living heroes, including Itzhak Perlman, Joshua Bell, Marin Alsop, Midori, and many others whom I admire and respect. I have so many music professors, teachers and others that I admire, even though their names are not necessarily recognized by people everywhere. Musically speaking, I would love to meet John Williams.
I also have great respect for many political leaders and the people I meet at the embassies when I am invited to perform. I got to meet former Senator/Secretary of State William Cohen last year, and I think he is very interesting. When I lived in Iowa, I used to perform at various peace keeping events for Congressman Jim Leach and his wife Deeba. I really admire the work of Haitian Ambassador Raymond Joseph, and I try to use my music to help him support the people of Haiti. During the last election, I met Senator Kerry and was able to see President Bush. I like to see people work together to solve problems, and I think that it is a privilege to support their hard work with my music.
Describe how you would most enjoy spending a single day?
Here's the dream. Stephane Grappelli and I fly over to Italy to check out the very first Strad shop, the one where Stradivarius lived and worked. While there, George Gershwin stops by, and the three of us spend the rest of the afternoon and evening jamming.
If you could be anyone else, who would you be and why?
I wouldn't be anybody else. Why would I want to be somebody else? I look up to many people, but I love my own life and am happy to be who I am.
Do you have a favorite quotation?
I have many, but none in particular.
How was playing at the Obama rally?
First of all, it was a total surprise to me. I was asked to perform and speak on behalf of music and the arts at Maryland Arts Day in Annapolis on Feb. 7. On Feb. 8, my mom started getting calls from senators and delegates who had been at this event, asking if I would perform at the "Stand for Change" rally for Obama on Feb. 11. There were 13,000 people inside of the 1st Mariner Arena in Baltimore. It was great and so much fun! I was very honored to be asked and I tried to do my best to play well and to answer reporter's questions thoughtfully. I perform all the time, and I am used to performing for big events, but I have never played for so many people. I love music, and I also love making people happy by playing music. It was so much fun to look out and see so many people smiling and clapping.
How did you become interested in music?
I didn't know anything about music until I got adopted. The first night my mom got me home, she happened to play a CD of Puccini arias. When the CD ended, I started humming the music I had just heard. My mom knows a lot of musicians, so the next night she took me to hear the Cedar Rapids Symphony. We have pictures of me just staring at the orchestra and at Maestro T (Christian Tiemeyer). From that point on, I started pushing away all my other toys. I pretended I was playing a violin, and I pretended I was conducting. My mom played music and music games with me everyday. Maestro T and the musicians of the Cedar Rapids Symphony were like my adopted family. I went to all the rehearsals and concerts, and I always wore tails, so I would look like Maestro T and the musicians. I started taking Suzuki lessons when I was four. I also went to Johnson School of the Arts, and that kept me involved in arts all day long. I thought about music all the time. I used to conduct the air and compose right through class, until my second grade teacher would say, "Josh, you are not an orchestra!" I was always surrounded by music. I started performing when I was eight, the same year I was accepted into my first youth orchestra. I enjoy and play all kinds of music, including classical, jazz, Broadway, opera, and even Motown. If it's good, I like it. I have been very lucky. I think I was born with musical talent, but the list of people who have helped me develop as a musician is very, very long.
What do you like best about performing?
I like to make a big audience happy, and I like to help people by playing and composing music.