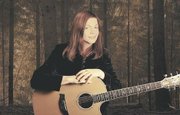 Carrie Newcomer is a singer songwriter from the Mid West who started writing in high school. She has many favorite memories and places that she likes to play. She will be performing with John Gorka at the Birchmere on Saturday, March 7 at 7:30 p.m. Visit www.birchmere.com for tickets.
<b>Introduce yourself or the band:
</b>Hi, I'm Carrie Newcomer and I'm a Mid-western singer songwriter, performer, workshop facilitator and activist.
<b>How did you get your start in music and how long have you been performing?
</b>I started writing songs in high school and continued to write and perform while I was attending art school. I began touring nationally in 1990 and signed with Rounder Records in 1993. The "Geography of Light" is my twelfth release on Rounder Records.
<b>If applicable, how were your musicians chosen?
</b>I will be performing at the Birchmere with pianist Gary Walters. Gary and I have worked and performed together for many years. His impeccable musical sensibilities were integral to the sound and feel of "The Geography of Light" and my previous release, "Regulars and Refugees."
I like to work with musicians who understand that what you don't say musically is just as important as what you do say. I am very fortunate to have had the opportunity to work with musicians who are masters of their instruments, but know it's always about what makes a song most powerful. This might mean creating a complex part or it might mean a simple line and a pause. It's a treasure to work with colleagues that can balance passion and presence with egoless musicianship.
<b>What is it that you love about performing?
</b>I love performances that become conversations. I love when people leave a show feeling like they've been heard and were a part of a human and maybe even spiritual community for the evening. I love that magical communication that happens in a good live performance. Live performance very uniquely creates a musical and personal connection which his hard to duplicate any other way. A powerful performance has the feel of an intimate conversation. I send out the best of my music and myself, and then listeners in turn send something of themselves to me. In an exceptional performance a third magical element enters the conversation. When this happens, the evening stops being about the individual performer, and becomes more about the song, the story and the shared experience.
<b>What is your best memory when it comes to music?
</b>Every night there is usually some moment worth remembering and holding close to my heart. I really can't say I have a favorite.
<b>Where is your favorite place to play, either publicly or personally?
</b>I play in such a wide variety of contexts. One night I'm in a performance hall, the next night I'm at a college, and then I'm at a spiritual community setting. I hop secular and spiritual lines daily. There isn't an easy category for me, but so far it's worked out fine.
<b>Best compliment about a performance?
</b>After your show I felt better about being human.
<b>What is your favorite piece of music and why?
</b>I really don't have one song, but there are many perfect or near perfect songs out there that always inspire me. Peter Mayer's "Holy Now," Lenard Cohen's "Hallelujah," Patty Griffin's "Makin Pies," Mary Chapin Carpenter's "This Shirt," Krista Detor's "Glory," Bernice Johnson Reagan's "They Are Falling," I could just keep listing for several pages really.
<b>Who would you love to play with? Why?
</b>I've had the opportunity to record and create performances with so many great musicians and authors. In past years I've had the opportunity to work with some incredible musicians like Alison Kraus. I've also had the opportunity to collaborate and create evenings with authors like Barbara Kingsolver, Parker Palmer, Philip Gulley and Scott Russell Sanders. I've also had the opportunity to work on social justice and mulit-faith events with artists and authors such as Brian McLaren, Jim Wallis, The Indigo Girls and Holly Near.
In the future, I guess it would be great to sing with Michelle Obama. I don't know if she sings, but I just think she's such an amazing woman it wouldn't matter!
<b>Describe your sound:
</b>If I were to try to describe my sound, I'd have to say I have a strong folk/pop and roots sensibility, but tend to cross musical genre lines. My latest CD "The Geography of Light" is a collection of folk-roots tracks with Appalachian and classical influences.
<b>Biggest musical influences:
</b>The singing poets.
<b>Where have you toured?
</b>I've toured throughout the United States, Alaska and parts of Europe.
<b>Anything special about the upcoming show?
</b>I will be celebrating the release of my new CD "The Geography of Light." It is my twelfth release on Rounder Records and I believe my strongest work to date. I'll also be performing a few new songs that will be included on my next CD, which is due for release early in 2010.
<b>Future plans:
</b>I'm working on a new collection of songs that will be recorded in August of 2009 and released early in 2010 on Rounder Records. I'm writing a play with a dear friend based on one of my songs called "Betty's Diner." I'm also working on a collection of essays about finding the sacred in ordinary things, which I don't know what I'll do with, but having a wonderful time writing them.
<b>What would you recommend to someone starting out in the business?
</b>My friend Bill Harley told me once that he was given some sage advice when he was starting out. His musical mentor told him, "Bill you don't want to be the best singer songwriter. You want to be the only Bill Harley." I think that really sums up something so important about developing an art form. I would encourage a new artist to consider what it is that they uniquely have to give. The goal is not to be the "best" but rather to be the "only." The only other thing I would suggest is to open to things not working out exactly the way you planned. When you follow your heart and what you love, love will usually take you where you need to go – it's just rarely where you thought that would be.
<b>Any parting thoughts?
</b>Folks can hear my songs and check out the new demos at www.carrienewcomer.com or Rounder Records www.rounder.com