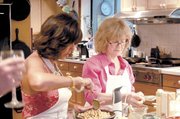 Olwen Woodier has been around the world and everywhere she has gone she's tried to learn to cook something new, use a new flavor and explore new cooking ideas. When she's home at Glenfiddich Farm in Leesburg she tries to share those ideas, but not just with guests she has over for dinner, but with everyone. To do this the author of six cookbooks decided to start a cooking class at her home featuring foods from around the world.
"One thing that attracted me was the cuisine she uses," Isabelle Hopkinson of Ashburn, who regularly attends the classes with a group of friends, said. "I learned a lot about Middle Eastern style of cooking that I never knew. She'll do all these different styles like Italian or she'll do a food theme like squash. She uses things from all over, which is very interesting."
THE CLASS ITSELF is very hands-on with participants doing much of the cooking themselves while Woodier explains what to do in general terms and goes over the recipes with everyone. The class will break up into small groups and each will be charged with a certain aspect of whatever dish they are working on. While people are perfectly welcome to sit back and relax Woodier said that most enjoy getting in and cooking.
"I started doing demonstration only," Woodier said of how her class started. "But within the year I opened it up to hands-on. Most people like hands-on. We do lots of Asian menus and themes and a lot of cooking techniques from Europe. I traveled around the world a lot and was exposed to a lot of foreign flavors."
The classes are single sessions in which the participants usually cook a four-course meal with Woodier explaining what to do and then sit down and enjoy it together. Woodier offers two styles of classes, one on Wednesdays, which take place during the day and deliver a lunch-time meal and the other on Friday nights, which feature dinner-time fare. Both courses take place in her kitchen, which offers professional cookers and ovens along with a large mirror so people can watch what she is doing when they aren't cooking themselves.
"Wednesday classes are very different from the Friday evenings," Woodier said. "Wednesday classes attract stay-at-home mothers or people who are retired, but Fridays are more a mix of couples who want to learn or a group of friends."
THE CLASS also accommodates all skill levels. Woodier has had absolute novices to experienced chefs attend her class. Woodier helps those that aren't sure what to do and let's the experienced chefs work how they would like. This doesn't mean that experienced chefs don't learn anything though.
"I absolutely learn new things," Joyce Baker, owners of Bakersfield Catering, said. "I've taken cooking classes in Italy and cooking classes all over the world … I took the basic training boot camp at the culinary institute last year and learned how to do things faster and better and that's how I feel about Olwen's classes. I learn something new that I was doing the long way or some new ingredient I would have never though of. You're always learning something new or different and you learn from the other people there, too."
Hopkinson agrees, saying that even though she is an experienced chef she is constantly learning new things and sees inexperienced chefs gaining confidence in the kitchen. "She makes it very simple. I've been cooking since I was 12, so the cooking is not a surprise for me. So for me, it's a social thing. Some ladies don't cook as often, so it's a great way to come and have a nice meal and learn some things. Olwen will always explain all the techniques. You always learn something believe it or not. Sometime it's using an ingredient you've never used or cooking in a different way," she said.
THE SOCIAL aspect of the classes is something that differentiates Glenfiddich Farm's cooking classes from others. Since the class is so hands-on and eating the food is part of it, much of the time is simply spent talking and meeting new people. Woodier says that the cooking is conducive to getting to know people.
"It's not only cooking, it is a great social outing. It's very casual and laid back and I go in a group of ladies and you make a nice meal together. To me it's probably more a social than cooking thing," Hopkinson said.
Newcomers shouldn't be afraid to jump in though, as the classes are open and friendly and always looking for new participants. Nor should they be afraid of experimenting with the recipes. Woodier runs her classes very openly allowing for different interpretations of recipes. If someone thinks a dish will taste better with a little more of one ingredient they are perfectly welcome to experiment. The class is designed around having fun cooking not following the recipe perfectly.
"It's easy for a new person to jump in because everything is detailed. We'll modify [recipes] as we go along and we make up our own recipe and work around it. There is a flexibility there as well, so you can experiment or go along with the recipe," Baker said.
MOST OF THE recipes cooked in the class are not just for the classroom either. Woodier selects recipes and ingredients that can be found locally and buys all the ingredients locally too, with an emphasis on eating healthy. Participants are sent home with the dish's recipe, notes on any changes that might have been made in the cooking process and many use them at home with their families.
"The whole premise is that people can go home and do them," Woodier said. "I give out the recipes and people do use them. Some of them are a bit more complicated than the others but you can do them all on your own."
Hopkinson has brought home her recipes to feed her family on multiple occasions and gotten very good responses. While the food and ingredients might be from around the world, the dishes appeal to most palettes and the class also teaches how to present food in a more decorative way with garnishes and toppings.
"I would imagine someone with an unappreciative pallet would feel a little skeptical of the food, but they would like it when they tried it," Baker said. "She has a lot of keep it simple suppers though that are very simple in flavor, too."
THE COOKING SCHOOL also offers a summer children's cooking camp where children can have fun and learn how to cook. The next installment of the camp is coming up in July and August and feature recipes and cooking lessons that children can handle. One camp is for 8- to 11-year-olds and features a more free-form style of cooking without to many strict recipes.
"They harvest herbs and whatever is in season and collect chicken eggs and on Friday they have a pottery lesson, too, with my husband. They do plenty of cooking. Last year, they made meatloaf and mixed up big bowls of a meatloaf mix and they made egg rolls and we had a fantastic pizza day," Woodier said.
The other camp is for older children between the ages of 12 and 16 and features more instructional cooking and detailed recipes. The camp teaches children how to cook and experiment in the kitchen and also shows children that cooking can be fun.
"My son did the cooking camp last year," Hopkinson said. "It made him actually have fun cooking because it was something he was doing himself. It's a great way for the kids to experiment and be creative. They come home and they want to make what they did at class."
Making cooking fun and interesting is something that Woodier believes is as important as cooking one's own food is both healthier and saves money. Getting children interested in this from an early age is something that she said helps drive that point home.
"The children aren't always cooking at home and I think their parents like them to come because it opens them up to the idea of cooking and the idea of eating different foods. Some kids come and they will eat anything and yet others have a very limited palette and for them it's a case of learning to try something in the company of their peers without feeling to much afraid or feeling silly," Woodier said.