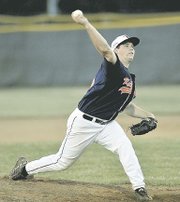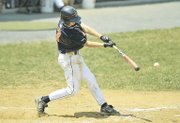 The summer has been a good one thus far for the Leesburg Post 181 American Legion baseball team, which has won seven of its first eight games to start the District 16 season.
Post 181, under first year manager Tom Whipple, has a solid line-up from top to bottom and has good overall depth on its squad.
The team is made up of college/high school aged players from the Loudoun County area. Players who attended or currently attend such local high schools as Broad Run, Stone Bridge, Park View, Dominion, Potomac Falls and Heritage make up the squad.
Most of the team's games are played on Wednesday and Saturday nights and Sunday afternoons. Post 181's home playing fields are at Park View and Stone Bridge high Schools.
One of the squad's best early season wins came on June 18 when Leesburg outscored Manassas Post 158 by a 13-9 final. Both teams went into that game carrying 4-0 records.
Post 181 did not win the game easily. It fell behind 7-1 early before rallying to win. The big hit in the game for Leesburg came on a three-run homer off the bat of Zack Boyd (Dominion High graduate). Other big games came from Steven Hershey (Broad Run High grad, current student at the University of Virginia), who belted a solo home run early in the game, and Kyle Irish (Park View grad, current Sheandoah University player), who went three-for-four with four RBIs.
<b>A FEW WEEKS</b> prior to the win over Manassas, Post 181 opened the season with a 13-4 win over Purcellville Post 293 in a game played at Park View High School.
Other earlier season victories have come over the Shenandoah Valley Sharks (in a double-header) and Front Royal Post 53.
The wins over the Sharks came in a June 15 twinbill played at James Wood High School in Winchester. Leesburg won the games, 11-1 and 5-4.
In both contests, Post 181's starting pitchers carried no-hitters after five innings of work. In the first game, Cole Shain (2008 Broad Run grad) earned the win, while Mike Palmer ('08 Stone Bridge grad) pitched an outstanding five innings of work in the latter game before being pulled because of his pitch count.
The following week, Leesburg defeated Front Royal, 10-1, in a road game. Big games for Leesburg came from shortstop Brian Wheaton (4-for-4, 3 stolen bases), center fielder Matt Irwin (5-for-5, six RBIs, 4 stolen bases) and Irish, who homered. Both Wheaton and Irwin graduated from Stone Bridge last month.
More recently, Leesburg swept a split double-header this past Sunday at Spotswood High (Penn Laird, Va.). The first win came over North Rockingham, 7-0, and the second win came over East Rockingham, 16-2.
Leesburg's only loss thus far came over Vienna Post 180, a District 17 member, on June 25 at Stone Bridge. Vienna won that contest, 15-10.
"It was a back and forth game," recalled manager Whipple of the loss. "It was the tail end of beach week and we just ran out of players."
That loss to Vienna came three days after Leesburg had defeated Manassas in the contest of 4-0 teams. Many of Post 181's players were enjoying beach week after having graduated from their respective schools. So, the Leesburg team was missing several key players for both the Manassas and Vienna games.
"Our guys hung tough," said Whipple, of the win over Manassas. "Guys who don't get a lot of playing time played well."
<b>WHIPPLE</b> has been impressed with his squad's cohesiveness thus far.
"I think one of the major keys [to our success] is how kids from different [high school] programs have meshed right away," said Whipple. "They are having fun and they are happy to be here. It's fun for a coach."
The Leesburg offense is averaging 10 runs per game through eight games. Top hitters include Irish, Hershey and second baseman Mike Stancik ('08 Stone Bridge grad).
The skipper wants to see his defense improve.
"We have some players who are somewhat unfamiliar with their positions," said Whipple, who has some of his team members playing at different positions from the spring school season. "Our defense right now has to step it up a little bit."
This Saturday night (July 5) at 7, Post 181 will travel to Alexandria to take on Alexandria Post 129. The game will be played at Four Mile Run Park's Cora Kelly School. During the 1970s and early '80s, the playing site there was the home ball park of the old Alexandria Dukes, who were a minor league affiliate of the Pittsburgh Pirates at the time.
Next Sunday (July 6), Leesburg will play the same Alexandria team again in a 1 p.m. game at Park View.