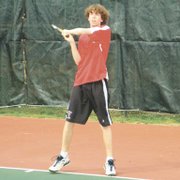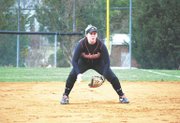 <bt>The Madison High boys' tennis</b> team defeated Stone Bridge, 7-2, in a Liberty District match on Thursday, April 16. With the win, Madison maintained its third place position in the eight-team district standings behind first place Jefferson and second place Langley. The Warhawks were scheduled to play Jefferson on Monday, April 20 and Langley on April 22.
The following are Individual match results of Madison's triumph over Stone Bridge. Madison singles winners were: Dan Sablik (No. 1 singles), Nathan Ostapovicz (No. 3), Zack Armstrong (No. 4) and Hojoon Choi (No. 5). Madison swept in doubles competition. The Warhawk doubles winners were Sablik and Armstrong at No. 1, Eric Leeson and Stefan Wilkinson at No. 2 and Ostapovicz and Chris Leslie at No. 3. Stone Bridge's wins came in singles where senior Bobby Ellis (No. 2 singles) and freshmen Brian Jones (No. 6) were victorious. Madison, with the team win over the Bulldogs, improved its record to 6-2. Stone Bridge fell to 0-8.
On Friday, April 17, Madison again won by a 7-2 score in a district home win over Woodson (4-4). Sablik, a sophomore, had an impressive singles win over Woodson's Michael Phaup, the current No. 52-ranked player within the Middle Atlantic 18-and-under boys and one of the top players in the Liberty District the last two years. Sablik defeated Phaup, 10-2.
Madison No. 2 singles player Sam Shroder was injured and not able to compete in the Woodson match. The following Madison singles players were victorious against the Cavaliers: Sablik (No. 1), Ostapovicz (No. 3), Armstrong (No. 4), Leeson (No. 5) and Leslie (No. 6). In doubles, Madison's No. 1 team of Sablik and Armstrong was victorious, as was its No. 3 team of Ostapovicz and Leslie.
On April 13, Madison defeated rival Marshall, 8-1. Marshall (1-7) was without its top player, No. 1 singles player Daniel Nguyen, who was competing at the Easter Bowl Tournament in California. Madison won all six singles matches with the wins coming from Sablik, Sam Shroder, Ostapovicz, Armstrong, Leeson and Leslie. Madison's double winners were Dan Nappi and Stefan Wilkinson at No. 1, and Jack Reilly and Aaron Plymack at No. 2. Marshall's lone win came at No. 3 doubles where Adam Lichtman and David Freund were winners.
<b>The streak continues for the Marshall High girls' tennis</b> team. On a gorgeous Friday afternoon, April 17, Marshall hosted Langley in a Liberty District re-match.
Following a delay due to transportation issues, the match got underway an hour late with intense singles competition. The Marshall girls came away with a 7-2 win. The Statesmen won five of the six singles matches to clinch the overall team victory even before doubles play got underway.
Singles winners for Marshall were: Faby Chaillo (No. 1 singles), Ana Dominguez (No. 2), Amanda Crider (No. 4), Sarah Doan (No. 5) and Kelly Crider (No. 6). The Statesmen continued to play at a high caliber in doubles where its No. 1 team of Chaillo and Dominguez were victorious, as was the No. 2 team of Crider and Lauren Hopwood.
On April 13, Marshall began the second half of its district season with a 7-2 win over Madison. The Statesmen, playing without No. 1 player Chaillo, used a lot of heart to defeat a talented Madison team. Marshall's singles winners were: Dominguez (No. 2), Hopwood (No. 3), Crider (No. 4), Doan ( No. 5) and Kelly Crider (No. 6). In doubles action, Marshall garnered wins at No. 2 (Dominguez and Amanda Crider) and No. 3 (Kelly Crider and Astrid Adam).
<b>Madison and Stone Bridge</b> played a hotly contested girls' softball game Friday night, April 17, with the home team Warhawks coming away with a low-scoring 1-0 win in the Liberty District contest. The Warhawks got on the board in the bottom of the first inning, thanks to a suicide squeeze bunt play. EmJ Fogel, on a full-count pitch, bunted the ball as Khristin Kyllo, who had reached base on an error earlier in the inning, came running home from third for the game's first and only run.
Later in the game, Rachel Daul belted a double into right field, but the Warhawks were not able to get her home. Madison's pitcher, Sam Brady, threw a one-hit shutout, giving up only one walk and not allowing a Stone Bridge runner past first base.
Madison's defense was outstanding as the Warhawks successfully made 19 fielding plays, including nice outfield catches by Alexa Fleming and Veronica Slingerman.
The win was Madison's seventh consecutive shutout and pushed its season record to 10-0, leaving the Warhawks the only undefeated team in the Northern Region. The team's seven straight shutout wins have come over Jefferson, 10-0; Mount Vernon, 6-0; Woodson, 9-0; Westfield, 2-0; Lake Braddock, 3-0; South Lakes, 15-0 and Stone Bridge.
In its April 14 win over South Lakes, Madison pitcher Nina Waters earned the complete game win, allowing three hits and two hits while striking out seven. Fogel led the Warhawks' offense with three hits, three RBIs and four runs scored. Kaila Conlon (two hits, two runs) also drove in three runs. Other good games in the win over the Seahawks came from Alexa Fleming (two hits) and Alyssa Tutterow, who walked twice and made a great fielding play at third base. Other Madison base hits came from Sam Brady, Holly Vizek, Kyllo and Toni MacReynolds.
Madison was scheduled to play four games this week, hosting Marshall on Monday, April 20, visiting McLean on Tuesday, hosting Woodson on Friday and hosting private school opponent Bishop O'Connell on Saturday, April 24, at 6:30 p.m. The game against O'Connell will be Youth Night at Madison.
<b>For the first time in Oakton High's</b> short crew history, all four, varsity boats qualified for the finals at the recent Polar Bear regatta. The Women's Varsity 8 battled for first place, ultimately taking second.
<b>The following Northern Region Coaches</b> Poll for boys' and girls' lacrosse teams is presented by TripleEDGE Lacrosse. Boys' Top 10: 1. Chantilly (5-1), 2. Langley (8-0), 3. Woodson (6-2), 4. Robinson (4-2), 5. Madison (7-1), 6. Oakton (4-3), 7. Herndon (6-4), 8. West Springfield (6-3), 9. Annandale (4-1), 10. Westfield (3-4). Girls' Top 10: 1. Chantilly (10-0), 2. Robinson (5-2), 3. Woodson (3-2), 4. Langley (6-0), 5. Madison (7-1), 6. Westfield (4-2), 7. Stone Bridge (6-2), 8. Oakton (3-3), 9. Annandale (8-2), 10. South County (5-1).
<b>The following Northern Region baseball teams</b> are ranked in this week's Coaches Poll: 1. West Springfield; 2. Chantilly; 3. Lake Braddock; 4. Westfield; 5. Langley; 6. South County; 7. McLean; 8. Stone Bridge; 9. Madison; 10. Yorktown. Other teams receiving votes: Woodson, Oakton, Marshall and Robinson.
<b>The Madison High girls' lacrosse</b> team was victorious over McLean, 19-5, in a recent Liberty District contest. The win improved the Warhawks' record to 9-1. Prior to the contest, Madison honored its four 12th graders during Senior Night festivities. The Madison seniors who were honored were: attack Jill Brown, goalie Diana McCarthy, attack Kate Moulton and manager Emily Ale. Madison, under head coach Amanda Counts, was scheduled to play district games this week at Langley on Monday, April 20 and home against non-district opponent Lake Braddock on Wednesday in the Warhawks' regular season closer. The district tournament is scheduled to start Friday, April 24. Madison lost a Liberty District home game to W.T. Woodson, 18-8, on March 31. It was the first loss of the season for the Warhawks, who were 7-1 following the contest.
<b>T.C. Williams High girls' basketball</b> player Tierra Ruffin–Pratt was unanimously selected as the Virginia State AAA Girls Basketball Player of the Year by the Virginia High School Coaches' Association (VHSCA) during recent meetings in Charlottesville. Ruffin-Pratt, heading to North Carolina on a college basketball scholarship, led the Titans to the region finals this past winter season. There, T.C. lost to Oakton in the finals.
Joining Ruffin-Pratt on the All-State First Team were sophomore Elizabeth Williams and junior Samisha Powell (both of state AAA champion Princess Anne of Virginia Beach), senior Tashuana Rodgers of King's Fork (Suffolk) and Forest Park (Woodbridge)point guard Danni Jackson.
Local All-State honors went to Myesha Goodwin (Edison High) and Kyani White (Stonewall Jackson of Manassas), who were named to the Second Team. Gerda Gatling (Forest Park), Shelby Romine (Westfield), Tracy King (Mount Vernon) and Kelcyn Manurs (South Lakes) received Honorable Mention accolades. Oakton's Fred Priester was named state AAA Co-Coach of the Year with Princess Coach Darnell Dozier. Priester led the Cougars to the state finals this past season.
At the State AA level, Mexiandra Porter of state champion Freedom High (South Riding) and Kendra Holmes of Division 4 state champion Loudoun County were named Players of the Year in their Divisions. Coach Jason Eldredge (Freedom) and Kevin Reed (Loudoun County) were named Coaches of Year in their respective Divisions.
Priester will be the head coach of the West squad and Eldredge and Reed will assist coach Rachel Mead (Cosby) with the East Squad in the VHSCA All-Star game will take place July 7 in Hampton. Oakton High's Erin McGartland will be a member of the East squad