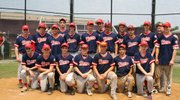 The Vienna Babe Ruth 16-18 All-Stars rolled through District 7 competition over the weekend at Chantilly High School to advance to the Virginia state tournament for the second time in three years. During the double-elimination tourney, Vienna outscored opponents Arlington and North Fairfax, 28-2, en route to a perfect 3-0 record.
"If one person made a good play, we would all feed off of that," said first baseman Chris Powers. "That energy would just keep building up."
After dispatching Arlington on Friday night, 10-0, in the first game of the tournament behind Taylor Farley and Scott Rasmussen combined shutout, Vienna took on North Fairfax in what would be the closest of the squad's three games.
North Fairfax jumped out to a 2-0 lead off of pitcher Scott Leduc in the first inning, but the lead would not last long as Vienna responded with two runs in the third and took the lead with a run in the fourth. After adding two more runs in the fifth, Vienna looked to coast into the tournament final. Northern Virginia, however, didn't let them advance without a few close calls.
In the fifth inning, North Fairfax loaded up the bases with three-consecutive singles with nobody out. Leduc beared down, striking out the next three batters, each representing the go-ahead run, to end the inning. In the seventh, North Fairfax again loaded the bases off of relief pitcher Brian Foy with two outs. Foy struck out the final batter, again representing the go-ahead run, to end the game.
"We had great pitching and great defense," said manager Harry Katrivano, whose squad allowed only two runs, all in one inning, during the tournament. "We have some very good pitching."
The District 7 final ended up being a blowout, as Vienna, playing North Fairfax for the second time in as many days, won 13-0 in a mercy-rule-shortened five innings.
"The confidence level is pretty high," said Foy, who started on the mound in the district final.
Eamon Hanifin led Vienna on offense, going 6-for-11 during the tournament.
Vienna will travel to Glen Allen on Thursday for the first game in the state tournament. As for the confidence level of the squad, Katrivano believes his players can do some damage.
"We think that we are going to give people a hard time out there," he said.
Added left fielder Brian Minnick: "We've proved to ourselves that we were capable of going really far."