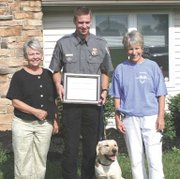 Send announcements, which are open to the public at no or minimal cost, to The Loudoun Connection, 7913 Westpark Drive, McLean, VA 22102 or e-mail to loudoun@connectionnewspapers.com. Deadline is Friday, two weeks before the event. Photos/artwork encouraged. For more information, call Jennifer Lesinski at 703-917-6454. For additional listings, visit www.connectionnewspapers.com.
Rep. Frank Wolf (R-10) announces the 10th District's appointments to the nation's service academies.
United States Military Academy, Matthew Edward Dillon of Ashburn, Bishop O'Connell High School.
United States Naval Academy, Christopher Gear of Leesburg, Thomas Jefferson High School; Emily Ray King of Ashburn, Stone Bridge High School.
United States Air Force Academy, Sarah Justine Radakovich of Leesburg, Stone Bridge High School.
The appointees were nominated by Wolf's 10th District service academy advisory board, which interviews candidates and recommends nominees.
Army Pfc. Cesar Abanto has graduated from basic combat training at Fort Jackson, Columbia, S.C.
During the nine weeks of training, the soldier studied the Army mission, history, tradition and core values, physical fitness, and received instruction and practice in basic combat skills, military weapons, chemical warfare and bayonet training, drill and ceremony, marching, rifle marksmanship, armed and unarmed combat, map reading, field tactics, military courtesy, military justice system, basic first aid, foot marches, and field training exercises.
He is the son of Segundo Abanto of Fairleigh Court, N.E., Leesburg.
More like this story