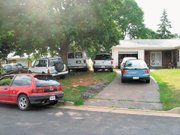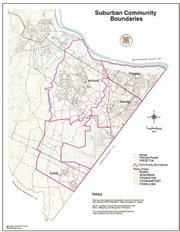 <b>Record Foreclosures </b>
Of Loudoun's staggering 2,000 foreclosures between October of 2007 and last March, 42 percent were in the Sterling and Sugarland Run ZIP Codes. Foreclosures have had ripple effects at both the county and neighborhood levels, dragging down real estate assessments in an already lagging market — which has put a strain on the county budget — and causing problems with unkempt homes in some communities.
The real estate boom of 2005 and 2006 coincided with a time when lending agencies could borrow money cheaply and many of the "less traditional" lending businesses offered loans to people who would not normally be able to borrow so much money. The result was that people ended up taking out mortgages they could not afford and as the housing market began to sag, they were unable to refinance or sell their houses and went into foreclosure. Foreclosed homes bring down real estate values by flooding the market and usually going for lower-than-normal asking prices, with which sellers then have to compete.
The wave of foreclosures came at a time when the market was already self-correcting after skyrocketing for the previous two years. Many buyers had been priced out of the Northern Virginia market and the resulting drop in demand, coupled with rapid construction in Loudoun, was already taking a toll on real estate assessments.
During 2007, the average price of a home in the county dropped from $547,429 to $507,542. Condos and townhouses were hit the hardest, with drops of up to 30 percent in some areas, while estates with 7,000 to 10,000 square feet of floor space on multiple acres continued to appreciate in value. The Sterling District saw a 16 percent drop in its overall housing assessment, higher than any other district in the county.
While Fairfax and Arlington counties weathered the nationwide trend better than Loudoun, the situation in Prince William County is grimmer.
Next year's assessments are expected to drop further, with the market then stabilizing and finally beginning to recover in 2011 and 2012.
The situation has created an opportunity for buyers, particularly first-time and retired home buyers who can't afford a large house or big risks and now can, in many cases, buy a home for what they are paying in rent. Also, "move-up" buyers may take a hit in the sale of their current home but should save bigger on the purchase of their next house.
The county is trying to take advantage of the situation to tackle Loudoun's shortage of affordable housing. One idea that has been floated is for the county to purchase foreclosures, improve them and sell them as affordable housing. Another is that the county could offer grants or low-interest loans for people who work in Loudoun but live elsewhere to move into foreclosed homes. It is still unclear whether the program could be applied to workers in all sectors or only county and school employees.
<b>Tight County Budget </b>
Most of the county's revenue comes from real estate taxes, so empty houses and a drop in real estate assessments are bad news for the budget. The new Board of Supervisors began the year staring down a potential $251 million shortfall for the 2008-2009 fiscal year.
Most of the county's budget goes toward the school system, which is scheduled to open three new schools a year for the next 10 years in order to keep up with growth. So the supervisors balanced the budget primarily by raising the real estate tax rate and cutting the school system's proposed budget. The tax rate was hiked from 96 cents to $1.14 per $100 of assessed value. County Administrator Kirby Bowers had initially recommended a rate of $1.22. With assessments predicted to continue falling, the rate increase is expected to represent an average of $300 tacked onto residents' tax bills, although this will vary from one area to the next, with western Loudoun generally getting hit much harder than, say, Sterling Park, where tax bills may actually drop.
The school system saw $48.7 million cut from its proposed budget of $804.3 million, although the schools will still receive $23.6 million more in local tax funding than they did in the last fiscal year.
The Board of Supervisors and county staff are conducting a line-by-line review of the county budget in the expectation that next year's outlook will be as bad or worse. They are also exploring different means of revenue, such as a meals tax, which will be up for a vote on the November ballot, and taxes on cigarettes and event admissions, for which the county would need permission from the state.
Staff has estimated that a cigarette tax of 30 cents per pack would bring in between $2.5 million and $3 million annually. Admissions taxes can be set differently for different categories of events and staff has said state permission for the tax would be sought mainly in case the county one day has an event venue.
Supervisors have also spoken frequently of the need to expand Loudoun's commercial tax base.
<b>Zoning Ordinances and Enforcement </b>
Another result of widespread foreclosures, as well as overcrowded houses, particularly in the Sterling Park area, is that complaints about zoning violations have skyrocketed in the last year or so. Most complaints have revolved around houses with unmowed lawns and/or multiple vehicles — often utility vehicles — parked on lawns and streets.
The Board of Supervisors has recently responded by introducing a number of proposals under discussion. These would allow complaints of zoning violations to be filed online, restrict parking on yards and allow volunteers to mow overgrown lawns. The supervisors are also seeking more efficient ways of recouping the cost of zoning enforcement — when the county has to rectify a violation itself and collect reimbursement from the property owner. If a home is in foreclosure, it can often be difficult to determine who the owner is.
A number of citizens, and at least one supervisor, have raised complaints that the county's Zoning Administration has not been responding decisively to violations.
Last December, the previous Board of Supervisors enacted a pilot program of aggressive zoning enforcement in two areas of Sterling Park where complaints were especially common. Those were North Argonne Avenue and Williamsburg Road. Under the program, county staff would actively seek out overcrowding and other zoning violations such as residential businesses, structures without permits and improper placement of inoperable or commercial vehicles. The pilot was to give staff an idea of the logistics of running such a program on a larger scale.
There has not yet been any report on the program.
<b>Illegal Immigration </b>
There has been much speculation on the part of residents that many of the zoning violations are being committed by illegal immigrants.
The Sheriff's Office announced in mid-June that it had established a memorandum of agreement with U.S. Immigration and Customs Enforcement (ICE) to adopt new policies under Section 287(g) of the Federal Immigration and Nationality Act.
Three members of the county's Gang Intelligence Unit were sent to a four-week course run by ICE and will now be able to initiate deportation proceedings against illegal immigrants suspected of committing crimes. To assist them, they will have access to an ICE database that tracks people who are in the U.S. illegally. Until now, ICE has had to come to Loudoun to investigate illegal immigrants.
Talks about entering into such an agreement began in 2005, but Sheriff Steve Simpson was reluctant to engage in the program, on account of jail facilities that were already overcrowded. When ICE said last summer that it would pick up any illegal immigrants within 72 hours of their sentence completion and reimburse the Sheriff's Office for the cost of holding them, Simpson agreed.
Last year, the county sent 107 suspected illegal immigrants to ICE and it sent 66 this year, as of the beginning of the month.
The county's previous Board of Supervisors also voted last December to add language to county contracts so that companies hired by Loudoun have to sign that they will not violate immigration law in the course of their work.
<b>Community Planning Meetings </b>
In one of its earliest meetings, the new Board of Supervisors voted to revisit the "community plans" that are to create detailed plans for eastern Loudoun based on citizen input. The plans were mandated by the 2001 Revised General Plan, but had never really been addressed. The General Plan breaks the region into four community planning districts and the board decided to address the two easternmost areas first, as they are older and more densely populated.
In April and May, four community meetings were held regarding the Sterling and Potomac communities. These comprise all of Loudoun east of Broad Run and are divided by Route 7. In the course of their outreach, planning staff are also to meet with homeowners associations, parent-teacher groups and business communities. A survey has also been available on the county Web site for citizens to weigh in.
Topics of discussion have included pedestrian and bike routes, crosswalks, traffic congestion, public transportation, stop signs, neighborhood safety, overcrowded houses, lighting, a possible skate park, a cultural arts center and myriad others.
Planning staff have also been taking pictures to compile a sort of photographic library of the areas and are working on a "fine-grained" analysis of each community's build-out, demographics and economic data.
Shortly after the Connection went to print on Tuesday, the Board of Supervisors held a special meeting at Park View High School, where planning staff briefed the supervisors on the preliminary results of their research.
<b>Belfort Park Task Force </b>
In February, a nine-member committee was formed to look into redesigning the area southeast of the interchange between Route 28 and West Church Road/Waxpool Road, commonly known as Belfort Park. When the interchange was built in 2004, it closed or limited entryways to the area and some businesses there have suffered since. The businesses had voted create a special tax district to help pay for the interchanges that would make Route 28 a "limited access road."
The task force consists of property owners, homeowners association representatives and county officials and is chaired by Supervisor Andrea McGimsey (D-Potomac). It is reviewing a Virginia Department of Transportation (VDOT) report on the area and looking at issues like increasing access to the original Shaw Road and possibly rezoning some areas for uses that don't require as much traffic. Other considerations have been the addition of sidewalks, improving the area's appearance and possibly taking advantage of the limited auto access to turn it into a more bike- and pedestrian-friendly neighborhood.
VDOT has been talking about closing down Cedar Green Road, the only point of access from Route 28, but the county, as well as local state representatives, have convinced the department to keep the road open to incoming traffic either until internal improvements are made to Belfort Park or until all of the Route 28 interchanges are complete. Three interchanges remain under construction, and there is, as yet, no funding for internal road improvements. Cedar Green has already been closed to traffic leaving the area.
The completion of Atlantic Boulevard, north of Belfort Park, would also improve access. Construction of Atlantic Boulevard is to be funded by VDOT.
The Belfort Park Task Force will present its recommendations to the Board of Supervisors by January.
<b>Hidden Lane Landfill </b>
In March, the Environmental Protection Agency named Hidden Lane Landfill, located between the Broad Run Farms and Countryside neighborhoods and about 2,000 feet from the Potomac River, to its Superfund National Priorities List. The Superfund is a program to clean up uncontrolled hazardous waste sites.
The county conducted its first widespread studies of well contamination in Broad Run Farms in 2005 and discovered 26 wells contaminated with low levels of trichloroethylene (TCE), an industrial solvent that is a known carcinogen and can cause damage to the nervous system, liver and lungs, as well as abnormal heartbeat and coma and, if ingested by pregnant women, birth defects. Anyone with a contaminated well was given a filtration system.
The Countryside neighborhood, meanwhile, is served by the county's water system.
The 30-acre landfill operated as an unregulated, privately owned dump from 1971 to 1984 and has been closed since. It was unlined and was supposed to be strictly for nonhazardous debris, but it has since been discovered that all manner of waste was buried there. Contamination does not appear to have reached the Potomac. TCE was first found in a couple of wells in 1989 and was detected in additional wells in the years since, but no widespread testing was conducted by the county until 2005.
The EPA said it would conduct an 18- to 24-month feasibility study to determine the extent and nature of the contamination. Following that, developing a strategy to clean up the site will take anywhere from six months to two years and will include community input. Then, work will begin. The EPA has determined the contamination to be a long-term threat, but not an emergency.
The agency covers the cost of the cleanup if it cannot find the responsible parties and it is currently investigating culpability. The two former owners of the dump are both dead, but their estates could be seized. If the county is deemed partly culpable, it could have to contribute funding.
The Center for Health, Environment and Justice, a nonprofit organization based in Falls Church that works with groups to confront chemical exposure risks, has recommended that the county investigate any possible link between TCE exposure and cancers in some residents of Broad Run Farms, but the county Health Department said it did not plan to conduct an inquiry. Four residents have confronted the department, suspecting a connection between their cancer and the landfill.
The center also recommended testing for TCE vapor in homes, crawlspaces and soil.