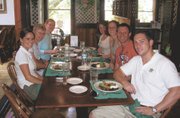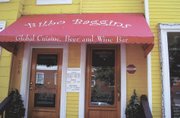 Hungry for history? Or just hungry? Either way, those desires can be fulfilled by taking an Old Town Alexandria Tasting and Historical Walking Tour.
The brainchild of Jeff Swedarsky, founder, DC Metro Food Tours, the Old Town tours offer a wide range of cuisine and special insights into some of Alexandria's most noteworthy historical attractions as well as its abundant 18th- and 19th-century architecture. Each tour group is purposely kept small, approximately eight to 10 people, to allow personal interaction among the participants and with Swedarsky and his wife Sharone, who serve as guides.
"We want this tour to be unique and different than the other tours offered in Old Town. Since there are so many places to eat in Old Town, it is difficult, for both visitors and residents, to know what to try," Swedarsky said.
"We want to promote our area's local favorites to a much larger audience. We want to show everyone some of the special dishes that can be found in our beloved city," he stated with the verve of a true Alexandria resident.
Each tour begins at Market Square at 1 p.m. and ends back there at 4:30 p.m. Tours are designed to appeal to both Alexandria visitors and local residents, particularly those in the latter category who have recently moved to the area, according to Swedarsky.
"Tour restaurants were painstakingly chosen to represent a variety of local flavors that would appeal to a wide audience. They have regional acclaim as well as a strong local following. They range from small, casual 'hole in the wall' type places to hip, trendy hangouts," Swedarsky said.
The five tour participants, plus Jeff and Sharone Swardarsky, this past Saturday dined at Bilbo Baggins Cafe, 208 Queen St.; Union Street Public House, 121 S. Union St.; and Pita House, 407 Cameron St. The mini menu selections were made by the Swedarskys from some of their personal favorites and assembled in a taste titillating array by the restaurants.
"Living in this area, we get a lot of out-of-town visitors and we like to take them to our favorite places. That's what originally gave me the idea for this venture," Swedarsky said.
A NATIVE OF INDIANAPOLIS, Ind., Swedarsky holds a Masters Degree in Business Administration from Purdue University. He and his wife have lived in Alexandria for two years since he came here as a government employee. Some of his other endeavors include marketing management and being a new business consultant. "We got this underway in May. But we've been working on it for about a year," he said.
"They have this concept in New York. But it's not the same. This is a particularly great place to do this, with all its history. I took the idea of a food tour and put my own spin on it. Besides, I love food and I love to cook," he said.
At each restaurant, tour participants are personally greeted by either the owner or manager, who explains the history of the restaurant and the various menu offerings. "It gives it a very personal touch," Swedarsky said.
That assessment was buttressed by Arlington resident John Dandeneau. "I wasn't sure what to expect. I've lived around these parts for over 20 years and thought I was very familiar with Old Town Alexandria. We saw this food tour and thought it'd be fun to try something new," he said.
"By the end of the tour, I was blown away by how much I didn't know about our local history, and the food tastings were awesome and incredibly generous. Jeff and Sharone were wonderful hosts," Dandeneau said.
Rick Joseph, an Alexandria resident, also found the tour an eye-opening experience. "I have lived here for the past eight months and had never understood why everyone was so fascinated with Old Town. Well, I'm here to say this tour put the "Ole" in Old Town for me," he said.
"It did not only reveal the deep history of the city, but also it allowed me to see and enjoy some of the diverse restaurants within the city. It opened not only my eyes but also my taste buds," Joseph said.
"I can't wait for friends and family to come visiting. Not only do I have somewhere to take them but also to let them discover the beauty and history of Old Town. I hope everyone who comes to visit or live here takes the time to learn about Alexandria's deep history as well as enjoy the richness this city has to offer," he said.
IN ADDITION TO visiting an array of Old Town eateries, the tour includes such historic landmarks as Gadsby's Tavern, The Lyceum, the Torpedo Factory Art Center, Stabler-Leadbeater Apothecary Shop Museum, and Lee-Fendall House. Tour participants get an opportunity to enhance both their palettes and their knowledge of both Alexandria and American history.
Culinary experiences cover the gamut from traditional Lebanese dishes, to globally inspired tapas, to regional comfort cuisine, to Thai dumplings, to hand made chocolates and truffles, to Old Town's famous 125-year-old recipe for jelly cake, and much more. "Enough food is served over the course of the tour that most participants will not need dinner," Swedarsky said.
Priced at $50 per person plus a $2 ticketing fee, it includes all food and beverages at the various restaurants plus gratuities. Additional information and frequently asked questions about the tours can be found at www.dcmetrofoodtours.com. To check availability and buy tickets online go to Zerve: Old Town Alexandria Tasting and Historical Walking Tour or call Zerve at 800-979-3370.