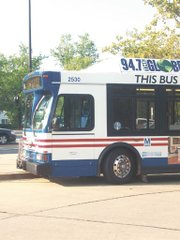 With gas prices reaching record highs many county residents may find themselves looking for an alternate form of transportation. Luckily, Loudoun County is home to some of the most feasible and peaceful ways to get around without the use of a gas-guzzling car.
ONE OPTION for residents is the commuter bus service, Loudoun County Transit. These buses transport commuters from park-and-ride lots all over the county to destinations in the Washington, D.C.-metro area and Metrorail stops. "Riding the bus is an option for anybody. It gives them another transportation option and is also a greener and more relaxing choice," Nancy Gourley, Loudoun County chief transit operator, said.
Pricewise, commuter buses fit into the tightest budgets with one ride costing 50 cents. Riders can also use Smarttrip cards to pay the fare.
A FIXED ROUTE and on-demand bus service is provided by Virginia Regional Transit. This is a nonprofit organization that works closely with the Loudoun County Office of Transportation. The fixed route service provides speedy transportation between key points in the county and also can drop commuters at the Fairfax Connector and the Metrobus 5A stops.
For individuals with disabilities, or for those that are not within three-fourths of a mile of a fixed route, an on- demand service is offered. The bus must be scheduled at least 24 hours in advance and the cost varies throughout the county depending on the length of the trip. Americans with Disabilities Act rules and regulations apply.
FOR RESIDENTS wishing to get a little exercise during their commute, bike riding is a very relaxing and environmentally friendly way to travel between home and the office. Small recreational trails systems are located in Cascades and Ashburn. The largest trail, which stretches all the way from Arlington to Loudoun, is the Washington and Old Dominion Trail. "Bike riding on the Washington and Old Dominion Trail is quite a popular method of going to and from work," said Brian Baur, a representative with the Washington & Old Dominion Railroad Regional Park.
Paul McCray, the operations director for the Northern Virgina Regional Park Authority, which owns and operates the W &OD Trail, has worked with the trail for 20 years and has noticed a steady increase in commuters over the years. "People who ride on the trails will save gas and end up healthier. Also, when you get to work, you are in better shape to start working since the trail is so peaceful with all of the birds and animals and interesting plants and flowers," McCray said. He estimated that on an average nice day up to 400 people will make use of the trail, which is very straightforward and flat, making for an easy ride.
Metrorail stations and area buses cater to bike riders. Park-and-ride lots encourage the use of bike lockers and transit buses are equipped with bicycle racks. Metro stations offer lockers for a price of $70 a year and bike racks for free.
AN ORGANIZATION called the Washington Area Bike Association, or WABA, is a large promoter of biking in the Washington, D.C.-metro area. "Our association offers things like commuter assistance, classes for new cyclists and free access to paths. We make it easy for people to ride," Eric Gilliland, WABA director, said. The association's Web site, www.waba.org, offers all sorts of tools for people wanting to get accustomed with the area's biking paths.
ALTHOUGH THESE forms of transportation are safer and cheaper, many worry about what they would do if they needed to get home in an emergency situation. Loudoun County has already solved this problem with the Guaranteed Ride Home program. This free program provides emergency rides to individuals who bicycle or take other alternative transportation to work. In order to qualify for a ride, one must regularly — twice a week — bike or ride the bus to work. Along with the many easy to use forms of public transportation, residents should feel safe leaving their cars behind.