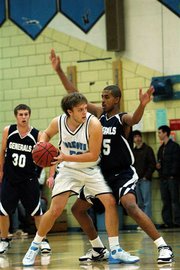 <b>School</b>: Yorktown High School
<b>Mascot</b>: Patriots.
<b>School Colors</b>: Columbia blue and white.
<b>Athletic Director</b>: Mike Krulfeld, 703-228-5388.
<b>Football Coach</b>: Bruce Hanson, (24th year).
The Patriots went 5-6 and 5-2 in the National District. Yorktown continued its winning streak — that dates back to 1982 — over rival Washington-Lee with a 13-7 victory. Yorktown lost to Edison in the first round of the region playoffs for the second consecutive year.
<b>Boys Basketball</b>: Rich Avila.
<b>Girls Basketball</b>: Kim Cordell.
<b>Baseball</b>: Mike Allen.
<b>Most Successful Programs</b>: Yorktown's girls swimming program has won the National District for the past 11 years, and snapped its two-year stranglehold on the state title last season when the Patriots finished seventh. At the same meet in 2007, the 200-meter medley relay team of Katy Hinkle, Abigail Ortmayer, Thea Kromer and Kristen Wolla (2:01.35) and the 200-meter free relay team of Wolla, Kromer, Katy Hinkle and Maren Taylor (1:49.04) set new high school records.
<b>Historic Achievements</b>: The Patriot football team has won two regional championships in football — one in 1988, when it beat Marshall 26-20, and another in 1999. But Yorktown's 2008 baseball team became the first National District team to finish the regular season and tournament undefeated. The Patriots went on a 17-game winning streak before bowing out in the first round of the region tournament. During the 2007-2008 school year, the girls basketball and softball teams both set new school standards for wins.
<b>Famous Athletic Graduates</b>: While the Patriots tout current CBS anchor Katie Couric and Google CEO Eric Schmidt amongst its alumni, there's no question who is the most outstanding athletic graduate. Tom Dolan (Class of 1993), a 6-foot-6 swimmer who was disagnosed with exercise-induced asthma won a gold and silver medal at the 2000 Summer Olympics and a goal medal at the 1996 Summer Olympics. Dolan still has three Yorktown school records and shares two more. He was inducted into the International Swimming Hall of Fame (ISHOF) in 2006.
<b>Fun Fact</b>: Yorktown was the premier team in boys gymnastics when the Virginia High School League introduced the sport in 1963. In the first 10 years of competition, the Patriots won eight state titles and finished as the runner-up in the other years. The event was not held in 1969. During that period, Stewart Weisner (Class of 1967) won a school-record seven individual events, while Jeff Jimeson (Class of 1972) won five. The VHSL no longer sponsors boys gymnastics.