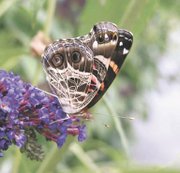 There are more than 80 species of butterflies living in Loudoun County, so it's acceptable to feel a little behind on seeing them all. Residents should be able to knock out a good chunk of the species list Aug. 2, when the 12th Annual Loudoun County Butterfly Count will be occurring. On that day participants usually see more than 50 species of butterfly while helping the Loudoun Wildlife Conservancy get information on the county's butterfly population.
"It got started back in 1997 and we had a person who was doing some casual recording of butterfly species around Loudoun County and he was finding that there were a lot of species around the county. There was this national butterfly count every summer so why though why don't we start one of our own," Nicole Hamilton, the butterfly count's coordinator and former president of Loudoun Wildlife Conservancy, said.
PARTICIPANTS IN THE count will be divided into groups, each being led by a local butterfly expert. The groups meet at different points and go throughout the county to butterfly hot spots to start counting and identifying butterflies. One team member is in charge of keeping track of numbers and species and the others identify, with the help of guides, the plethora of butterflies they see.
"By the end of the day you can't believe that in this radius you've seen so many different butterflies," Hamilton said. "It's really cool. Some species are just really rare like the Giant Swallow Tail, we might see one every few years or so."
Hamilton said that the count is not just a great way to see butterflies, but a good way for anyone to spend a fun day outside. While the counts last till around 4 p.m. usually people in the groups are able to come and go as long as they arrange it ahead of time, which is useful for people with children who, Hamilton said, are some of the best butterfly spotters. Many participants will bring binoculars and some food to help them through the day. The count also avoids double counting butterflies via the simple tactic of being careful.
"As we go, we don't back track. We stay as a group and each team usually has five or six people on it so it isn't so unwieldy. So we'll come up to a certain garden area and then we'll move forward from there and if we see a butterfly is moving with us we don't count it twice. You just make sure you're not doing the back track," Hamilton said.
The data from the count will be used for a variety of purposes not the least of which is tracking the population of butterflies throughout Loudoun County and establishing how much an impact development is having on their habitats. The count will be compared to previous years and the numbers will all be sent to the national butterfly count to map nationwide populations.
Hamilton said that the butterfly population in Loudoun is constantly changing. "A few years ago there was an amazing field of wild flowers, which was great for butterflies and unfortunately it got developed so now its just a housing development with lawns. In the data we collect we take note of impact that development causes. So we're keeping track of those habitats."
As for this year's count Hamilton isn't too sure how the numbers will turn out. The extremely wet summer the area is having could cause both an increase or a decrease depending on how it has impacted the butterfly's habitats. The rain could be producing a lot more plants for the butterflies to feed on but at the same time it can wash away eggs and hurt the caterpillars.
"We're really not sure what to expect, but either way it will be a really fun day," Hamilton said.
To register visit www.loudounwildlife.org/butterfly_count.htm or call 540-882-9638 or e-mail nhamilton@laoudounwildlife.org.