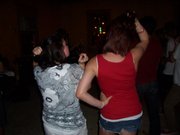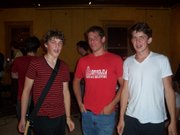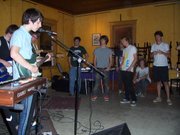 <b>BRINGING YOUR DAD</b> to a concert isn't the coolest thing to do. But for Jake Tempchin, there was no other option.
<p>Jake is the bassist for the local punk rock trio The Boom Orangutangs. Earlier this month, he and his fellow bandmates, all of whom attend Wilson High School in Washington D.C., played a gig at Murky Coffee in Ar>lington.
<pJake has his provisional driver's license, which means he has to have an adult with him whenever he gets behind the wheel. His other bandmates, drummer Ben Keyes and guitarist and lead singer Peter Hartmann, aren't old enough to obtain a license of any kind.
<p>So, because their gear can't fit on the Metro, The Boom Orangutangs had to bite the uncool bullet and get a ride to their gig with Jake's dad.
<p>"It was an ordeal," Jake said. "We're probably going to have to walk home," Peter added.
<p><b>LUCKILY</b> for the band, Jake's dad wasn't the only parent at the show. Nearly all of the four bands on the bill, as well as the roughly two-dozen audience members, came to Murky with their mothers or fathers.
<p>For the last year and a half, the upstairs stage at the Clarendon-area coffee shop has been the host of several shows that are open to rock fans of all ages.
<p>"Our younger fans tend to be more enthusiastic and supportive," said Carol Bui, who promotes shows at Murky. "They're always excited about music and they don't have the baggage that us older people have."
<p>"People actually come to watch music," Adam Bray, a local promoter of all-ages rock shows, said. "It's their primary focus. In a lot of bars, music is secondary."
<p>Bui said she tends to focus on booking younger, less established bands rather than big-name national acts because "There aren't enough all-ages venues in the D.C. area. The ones that are around like The Black Cat and The Rock & Roll Hotel, they're busy. They get a lot of touring acts that come in so there isn't much room for a whole lot of younger kids to play."
<p><b>EARLIER THIS MONTH,</b> Bui hosted a show at Murky that featured four teenage bands, two from Washington D.C. and two from Fredericksburg, Va.
<p>The audience, which comprised mostly friends of the band members, paid a five dollar cover charge to get in. "I like it," Anna Lathrop, a senior at Fairfax County's George Mason High School, said. "It's cute that all their parents are here."
<p>Bui said that having shows at a small venue like Murky is ideal for bands that are just starting up. "The place itself is more laid back and it's got a cozier feel to it," she said. "It's not so intimidating."
<p>Seventeen-year-old Luca Terziotti is a member of the Fredericksburg-based band Rocky's Revival. He said he appreciates the all-ages policy of Murky's shows. "It's nice because our friends can come," Luca said.
<p>Rocky's Revival has been playing for two years now, Luca said. But their future is in doubt because the band's bass player will be going to college next month. "That puts a kink in things," he said.
<p><b>INITIALLY,</b> at the Murky show, the crowd was slow to get into the music. Boys and girls segregated themselves on opposite sides of the room and there was very little interaction between band and audience.
<p>But at some point during The Boom Orangutangs' punishingly loud set, subtle signs of dancing could be observed. After the band finished its songs, Peter, Ben and Jake jumped off the stage and conversed with their friends in the audience, both old and new.
<p>"We met a new band [tonight]," Jake said, "Got milkshakes with them."
<p>"I don't think we're really getting paid any money," he added. "It's just a fun experience."
<p>The Boom Orangutangs have played at a number of places in the Washington area and have developed a small following on their MySpace page. But, for now, these high school students are just focused on having a good time.
<p>With continued all-ages shows at Murky Coffee, The Boom Orangutangs and other pre-college bands in the area will have an opportunity to do just that.