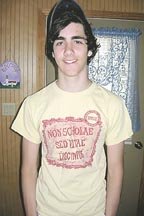 Bill Barlow is a lifelong resident of Fairfax, and a rising junior at Robinson Secondary School. He was one of two students from Robinson nominated to participate in the Latin Academy at Virginia's Governor's Foreign Language Academies.
Virginia's Governor's Schools serve more than 7,500 of the state's most able students with challenging programs beyond those offered in their home schools.
In this three-week residential Latin program at Virginia Commonwealth University, Barlow was introduced to classical Greek along with further intensive study of Latin.
How did you first find out about the Governor's School program?
My teacher of two years, Magistra (magistra means teacher in Latin) Zeiner, suggested that I apply. She expressed confidence in my interest in and aptitude for the Classics.
When and why did you first become passionate about Latin?
There hasn't ever been a remarkable moment when I realized I loved Latin. It's more something that grows on you if you keep at it. I've found charm in it for the lack of word order. The expanse of time between their world and ours also strikes me whenever I hold a piece of Ancient literature. What the study of Latin does for me is sort of preface the present, it provides context for society today.
Describe a typical day at Governor's School.
They expected all 45 of us to be at the VCU cafeteria for breakfast by 7:25 each morning. After breakfast, we would attend three, one-hour classes on a block schedule, determined by the day of the week. On certain days it would be Greek, sight reading and epigraphy. On others we would attend conversational Latin, medieval Latin and religion. We would then eat lunch and commence with afternoon activities. Some students worked on a play by Plautus, others adapted scenes from Snow White for presentation on the final day. There was also a contingent of students compiling pictures and such for a yearbook-esque memory DVD. Professors and distinguished members of the Classics community regularly visited us and imparted their knowledge in the lecture hall. After dinner, we would watch movies and after mail call they permitted us to enjoy free time before lights were out at 10:45.
What was your favorite aspect about Governor's School?
Every member of our community could contribute in some way. I haven't kept company with such an intelligent group that could relate to me and appreciate my little puns and eccentricities. We understood each other and basked in the enthusiasm of the faculty. It almost angered me to return home because the dynamic at Governor's school was so stimulating.
Any challenges?
Absorbing the Greek language in about eight classes was definitely challenging. We were also presented with difficult Latin passages to sort through. I can't say that I disliked any of it though. How can you dislike something so engaging?
Do you see yourself pursuing a further study of Latin in the future? If not, what are some other future goals or ambitions you have for yourself?
If I could choose one grammatical construction to adequately summarize my thoughts about pursuing the Classics, it would be Future Less Vivid. I'm curious about a lot of things and I couldn't at this point restrict myself. I know I will forever enjoy delving into the past in one way or another. In terms of ambitions for the future, I simply want to wake up and do something that makes me happy most everyday.
Who has been your biggest inspiration?
My uncle, Carlton Sexton, has always been an inspiration to me as he's engaged me intellectually and is willing to have conversations about anything.
What would you tell someone who is considering Governor's School?
Expect challenges accompanied by a completely open experience. If you're willing to relinquish inhibitions and reservations about standard education, you can experience something unconventionally enriching.
What are some of your extracurricular interests and activities?
I read a lot on the side and collect comics. I also program for a robotics team and help out on my school's newspaper. Debate is enjoyable for me and I have been known to attend a few Model U.N. conventions. Though I'm not a Christian, I sing in the choir at my parents' church. I also like to play the guitar a little when I'm alone. A new addition to my activities will probably be reading classical literature independently. Upon returning home I bought a Latin copy of Ovid's "Metamorphoses" and a couple books to continue studying Ancient Greek.
Favorite book?
"East of Eden" by John Steinbeck
Favorite local hangout or restaurant?
Ho's Dynasty in Burke.