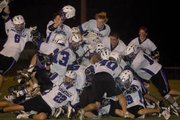 Throughout this season, the Chantilly boys lacrosse team's motto was – one more. One more pass, one more shot, one more goal, one more win, one more title. After beating Oakton, 12-5, to win the program's first ever Virginia state lacrosse title on Saturday night at Westfield High School, head coach Kevin Broderick and the Chargers are left with nothing else to accomplish.
"I guess we have a new motto," said senior defender Mike Quigg. "No more."
So now, only days after adding the program's first state title to their first Concorde District title and Northern Region title, there's nothing else to achieve for this historic Chantilly team. No team on their schedule that they haven't beat during their 20-0 undefeated season. No titles that they haven't won. No preseason goal that they haven't reached.
No more.
"That's exactly my problem," said Broderick with a laugh. "We were so focused on doing it one game at a time and one more and we accomplished it, I guess there was a sense of relief. It has taken a few days to really enjoy the moment and understand what we accomplished."
Broderick is now filling his time with collecting equipment and meeting with underclassmen to devise an offseason workout for next year.
<b>QUIGG ENTERED</b> this season hoping for one more chance. A linebacker for the Chantilly football team that advanced to the AAA Div. 6 Virginia state title game, Quigg remembered what it felt like to fall one game short of a state crown. Heading into the Chargers' matchup with Oakton, Quigg was determined to not feel that way again.
"I was not going to lose that game. I was determined to win it," he said. "It was my dream going into high school to win a state championship. To get that chance to do it was awesome."
Despite the fact that Chantilly held a 3-0 season series advantage over the Cougars heading into the game, outscoring Oakton 26-16, the Chargers felt the pressure immediately after beating Western Albemarle in the state semifinals.
"Whatever happened tonight, it doesn't mean anything unless we win on Saturday," Broderick remembers his seniors telling the team. "You have to finish what you started out to do."
That sense of urgency showed as the Chargers jumped out to a 4-0 lead at the end of the first quarter and a 5-2 lead at halftime.
"We knew that if we played our game, everything would go our way," said junior goalkeeper Derek Kegerreis.
Oakton pulled within one goal at 6-5 near the end of the third quarter, but the determined Chargers scored the final six goals of the game to skate to a 12-5 victory.
As was the case during the regular season, the Chargers relied on their senior leadership to pull ahead. Senior Corey Aferiat led the Chargers with three goals and two assists, senior Joe Fratter added three goals and seniors Jake Nolan and Ian Mills contributed two goals.
"It was an uphill battle for sure," said Broderick. "While we had a quiet confidence about us and we talked all week about what we had to do, for me, it was just one more game."