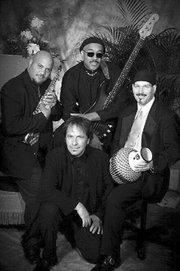 The David Bach Consort will perform Friday, June 13, as part as the Lansdowne Resort's Jazz on the Potomac, from 5:30-10 p.m., at the Lansdowne Resort, 44050 Woodbridge Parkway, Lansdowne. Enjoy summer foods prepared by the culinary team. Call 703-729-8400 or visit http://www.lansdowneresort.com.
Introduce yourself:
My name is David Bach.
How did you get your start?
I started piano when I was 6, starting with classical training for 19 years. I then studied jazz piano with acclaimed jazz pianist Ted Alexander.
How long have you been performing?
30 years.
What has been your best memory when it comes to music?
So many great moments as music connects with everyone on some type of level, whether, intellectual, physical, health or spiritual; it is truly the universal language and I have many wonderful moments experiencing the gifts of music.
Describe your sound:
World jazz or contemporary jazz with world influence. I lived in Asia and Europe, so I bring in other flavors to my music.
Biggest musical influences:
I love all music.
Where is your favorite place to perform and why?
I love all venues, in this area: the Kennedy Center, Blues Alley, al the concert series I perform at including Jazz on the Potomac at the Landsdowne Resort.
Best compliment about a performance?
I've had a few real nice compliments, but the best one has to be from a woman named Portia who fell in love with her now husband listening to my music at one of my performances.
Anything special about the upcoming show?
I have a great band coming with me this year … I love the Landsdowne Resort and Jazz on the Potomac is a great series and fun place to perform.
Most recent song you've listened to?
Diana Krawl, "The Look of Love."
How can people hear your music?
You can go to my Web site, www.davidbachmusic.com.
Future Plans:
I have a live CD coming out and am composing lots of tunes for an as-of-yet unscheduled fifth CD.
More like this story