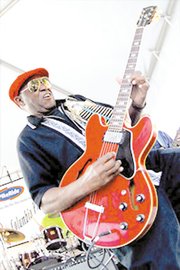 It'll take more than a broken back to keep local musician Memphis Gold from playing the blues.
Gold, who was born on Memphis' famed Beale Street as Chester Chandler, is an accomplished guitarist who will be playing this weekend's Columbia Pike Blues Festival.
Earlier this year, while working his second job as a landscaper, Gold fell out of a tree and suffered a serious spinal injury. He was hospitalized for almost three months.
But Gold, who has been playing the blues since he was twelve, never lost his love of music. The week he was released from the hospital, Gold played an impromptu concert for the nurses and patients.
"I wanted to show them how much I cared," he said. "We had a ball. I had them rocking in their wheelchairs."
GOLD is just one of the many performers who are scheduled to appear at the 13th annual Columbia Pike Blues Festival, which is being held this weekend in South Arlington.
The event has become a yearly tradition for Pike residents and those who live elsewhere in the Washington area to gather for fun, food and authentic blues music.
"It's our best line up ever," Jim Whittaker, the director of the Columbia Pike Revitalization Organization, said. He said that the Columbia Pike area has taken to the idea of an annual blues festival because "They wanted something that was sort of authentic and fun and down to Earth. The blues certainly fit that."
This year's headliners are Roomful Of Blues, a long-running ensemble that combines blues, funk, jazz and many other genres. The festival, which is being held on Walter Reed Drive just north of Columbia Pike, will also feature more than a dozen food vendors and a children's activity area.
THE NORTHERN Virginia-based Gold will be playing one of his first post-injury gigs at this year's festival. He describes his style of music as "sanctified, Beale Street, urban, gut-bucket blues."
The thirteenth of fourteen children, Gold has led a rich yet difficult life. He moved to the Washington area in 1992 with, as Gold recalled, "$100 and a one-way bus ticket." He was briefly homeless but has been able to become a sought-after international entertainer, having played in almost 40 different countries.
Now, after his injury, Gold has to go to physical therapy almost every day. "He's still in pain," friend and protégé Stacy Brooks said, "But he loves to perform so you can't stop a man from doing what he has to do."
Gold himself is thinking only about his next gig. "I'm ready to get some folks dancing," he said. "People are gonna get crazy out there."