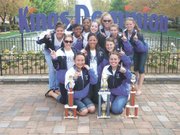 The Fairfax High School Dance Team won two first-places and the Grand Champion Award at the 2008 Spring Spirit competition held at Kings Dominion on Saturday, April 12.
The team placed first in the senior Pom division and first in the senior Hip Hop division. But most notably, the Rebel Dancers carried the day by winning the top award — Grand Champions. The girls competed against 38 dance and cheer teams — the team with the highest overall score received the Grand Champion trophy.
The pom routine, choreographed by the two captains, senior Thanh Luu and junior Sheila Faalasli, in addition to receiving first in that division, received the top score over all routines performed during the competition, which earned the team the Grand Champion award. The winning hip hop routine was choreographed by senior Giovanna Steel and sophomore Chrystina Herring.
The team took 11 of the 14 members: seniors Sarah Golden, Thanh Luu (captain), Nina Sabarre, Giovanna Steel; junior Sheila Faalasli (captain); sophomores Samantha Geier, Chrystina Herring, and Aubrey May, and freshmen Paola Bauza, Arenn Martin, and Nadine Rousseau. At the last minute, the team decided to enter a second routine which required an even number of dancers, and the dance team manager, Kenly Carter, stepped in to fill the vacant spot.
The 2007-08 team has three more performances this season: the spring pep rally (April 23), half time at the senior men's soccer game (May 2), and at 1 p.m. at Fairfax Corner's "Revealing Ceremony," at the Fairfax Corner Grand Plaza Fountain.
The Fairfax Rebel Dancers are coached by Becky Holderness and Julie Veenstra.