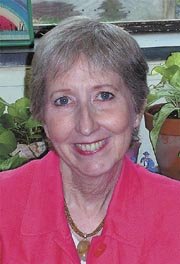 Jane Cruz, coordinator for adult high school completion programs of Fairfax County Public Schools Adult and Community Education (ACE) program, recently received the Outstanding Educator award from the Martin Luther King, Jr., Cultural Center. Cruz is also principal of Woodson Adult High School and director of the FCPS Improv Troupe.
The center's Board of Directors presented Cruz with the award for outstanding leadership in helping students develop positive attitudes about themselves as well as improved academic achievement. In nominating her, the Del. Ken Plum, cited her 23 years of advocacy "for the poor … [and] for foreign-born adults and U.S.-born people of color who have not had educational opportunities because of the impact of personal, financial, tragic, or political situations."
Cruz's accomplishments include the co-development of the FCPS Instructional Plan for Diversity, creation of the Credit by Objective program to serve the needs of adult students, and formation of a learning lab to serve the needs of Fairfax County residents. Plum attributed these initiatives and her inspired leadership to the large number of Woodson Adult High School graduates who go on to attend college, on average 75 percent. She also serves as a volunteer at the Fairfax County Adult Detention Center, teaching English and facilitating a Spanish-speaking support group for inmates.
The Outstanding Educator award is designed to pay tribute to individuals, groups, or businesses dedicated to helping America's youth. In addition to the award, the MLK Cultural Center provides college scholarships to local minority students, offers a mentoring and tutoring program for youth, and educates families on financing a college education.
More like this story