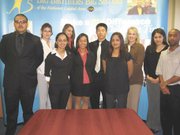 Fairfax High School DECA students (Distributive Education Clubs of America) won national recognition at the International Career Development Conference in Atlanta, GA, April 26-30. The 24 students competed against 20,000 high school students in Marketing, Entrepreneurship and Business Management. Three students — Mike Kim, Maril Thach, and Miranda Hull won first place in the Creative Marketing Project event.
FOR ONE of eight of their projects, the DECA students attended activities in the Fairfax City elementary schools and mentored with younger students on ways to effectively change "risky behavior" due to a breakdown in the family structure.
In the project, "Peer Mentorship" and "Keep it Safe," which was held last Jan. 7-11, Fairfax High's DECA students went to Daniels Run Elementary and worked with students on role modeling, Q&A's, and internet safety.
"The kids really responded to those more popular high school students," said DECA Advisor and Marketing Department Chairman Susan Louis. "We wanted to work within our community -- in trying to reach our feeder schools and the people who are coming into this school."
"They did a nice job of focusing on appropriate questions and responding in a positive way — in dealing with self esteem, internet safety and peer pressure," said Kathy Mullenix, principal of Daniels Run Elementary.
With peer pressure trickling into elementary schools more and more, she said the younger students benefited from the experience, adding, "The sixth-graders knew they were talking to older students still in school, so they look up to them."
The high school students affirmed what they had been hearing from their parents and teachers. The value was in more people communicating a similar message: " It's always good when you can pull in lots of people to talk about the same topics, but the message is always about the same," said Mullenix.
Louis calls the DECA students' response to being Big Brothers and Big Sisters "tremendous. It's had such a huge impact on them." She said the DECA students already seem to be better citizens. "They feel more responsible and accountable," she said. "It's become a mantra for them. They're sharing that enthusiasm to be mentors. It's thrilling to me to see this actually happening."
While also working with Lanier Middle School students, the goal was to reduce alcohol- and drug use through the use of positive peer role modeling and education. And to help students develop resiliency skills needed to overcome peer pressure and debunk misconceptions about high school drinking habits.
MARC MATTHIE, DECA Advisor, says with 60 percent of high school seniors drinking alcohol these days, the program helps by providing positive role models to younger students so they can make better decisions.
In the program, 10 Fairfax DECA students worked with 30 students on issues like alcohol and drug awareness to educate them on their negative effects. The program helps them make better decisions in their early adolescent years by modeling good behavior.
"What Fairfax DECA wanted to do was create solutions to this problem," said Matthie — to improve behavior when kids are starting to make decisions on their own.
The effect is "very powerful," says Matthie. "They look up to those high school students like they're athletes. It's both groups making better decisions. It's one way that Fairfax DECA is helping to make a difference in the community."