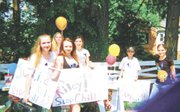 Glasgow Middle School student Alexamarie Allen has a real passion to end child abuse. While researching on the internet, she came across the heart-wrenching story of Kelsey Briggs, a child who died of abuse before her third birthday. "She really touched my heart," says Alexamarie, "It's not right! I just knew I had to do something to help children like Kelsey and stop them from being hurt."
She took action by making flyers and blue ribbons, the symbol for child abuse prevention, and brought awareness at her school and to her friends. Many of her friends and teachers joined her crusade and participated in making flyers and helping to spread the word about this important cause. Since April was Child Abuse Awareness Month, Alexamarie organized a fundraiser. On April 26-27, she and her supporters manned the corners of Sleepy Hollow Road and Kerns Road in Falls Church, armed with their homemade posters, flyers and ribbons.
The Community Service Leader at Glasgow, Michelle Peters, joined the group, chanting and handing out flyers alongside the teens. Peters has inspired Glasgow students to near 100 percent participation in community service. They are very close to achieving their goal of being the very first school in Fairfax County to reach total participation.
A local youth group, Junior Youth Empowerment, joined in Sunday afternoon and reignited everyone's spirits. All the efforts were rewarded with over $500 in donations!
The money raised will go to SCAN (Stop Child Abuse Now) of Northern Virginia, a non-profit organization, located at 1705 Fern Street, 2nd Floor, Alexandria.