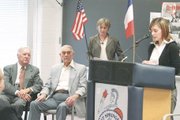 West Springfield High School opened its doors to World War II veterans and student visitors from France last Wednesday as part of a "People to People" project.
The idea was that these aging veterans of World War II should pass their history torch to high school students about their World War II experiences.
The vets who spoke were James Rodier of Vienna, an Army paratrooper who landed at Sainte-Mère-Eglise on June 6, 1944; Avon Blevin, of the Navy and Fairfax resident; and Albert Torreele, an officer in the Belgian Army.
With the support of Marc Lefèvre, mayor of Sainte-Mère-Eglise, as well as local business owners and artisans, Mr. Couefin, president of AVA (Amis des Veterans Americains), raised funds to send 15 French students from the Collège Saint-Exupéry to the U.S. for eight days.
The students are from a small town, Sainte-Mère-Eglise, in Normandy, the first French city to be liberated on D-Day, June 6, 1944.
During the ceremony, Capt. Stoy mentioned an email and a letter sent by Gen. John Eisenhower (the son of the former president) as well as Gen. Collin Powel who sent their regrets as well as expression of their support. The program coordinator was French teacher Joëlle Torreele.