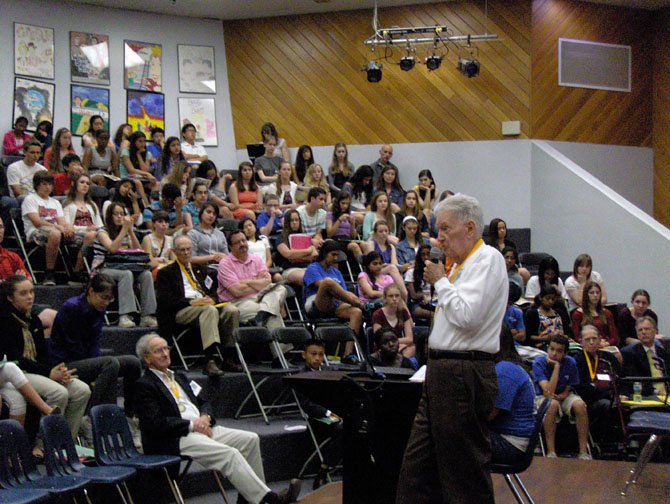 Centreville — A veteran of three wars, Russell O'Connell helped protect Gen. George Patton. Elmer Smith flew President Roosevelt to the "Big Three" meeting with Stalin and Churchill. And Ruth Erno was a Navy communications officer.
They were among the more than 80 veterans who participated in June in Rocky Run Middle School's annual World War II Day. It's hosted each year by the seventh-grade class and organized by history teacher Jamie Sawatzky.
Students learned about those times from a variety of perspectives, including civilians, a Japanese-American who served with the U.S. Army while his family was interned, and a man who flew with the German Luftwaffe. Most of the veterans were from the WWII era, but others saw action in the Korean, Vietnam and Iraq wars.
Participating, as well, were six people involved in the invasion of Normandy, France, plus Walter Goodman, a scientific adviser and eyewitness to the atomic-bomb explosion at Nagasaki, Japan. Olvin McBarnettte spoke on the post-war desegregation of the veterans, and three Holocaust survivors told their stories, too, as did three people who grew up behind the Iron Curtain.
All were interviewed by the students in small groups throughout the school, and some also spoke to larger audiences in the little theater. And some of the interviews were videotaped and sent to the Library of Congress as part of its Veterans History project.
A PILOT with the 368th fighter group, O'Connell flew planes escorting bombers making runs over Europe. "We used to protect Patton," he said. But it was dangerous work. "During those days, [the enemy] would shoot anything that moved," said O'Connell.
At one point, he said, "[Gen.] Eisenhower gave Patton the order to take a certain town — and Patton told him, 'I took it yesterday; do you want me to give it back?'"
When a student asked O'Connell how he felt about killing people, he replied, "The Germans had lots of horse-drawn vehicles. I didn't feel bad about killing the Germans, but I did feel bad about killing their horses."
Mentioning his life before joining the military, he said, "We were poor, real poor. It was the Depression, and we lived in a basement in Michigan with no lights and no water and ate mashed-potato sandwiches for lunch."
Now an author and artist, Mark Strauss, 83, was a Jewish boy in Poland during WWII; and from ages 12-and-a-half to 14, he lived in the Lwow ghetto. "It was absolute hell," he said. "I was always in fear and felt threatened and terrified. I was also uncomfortable because I was hidden in a 10x7 room and could never walk around or the people in the room below would have heard me."
But through it all, he said, he never lost hope. "It was impossible to believe the Allies would lose the war," he explained. "When we were liberated by the Soviets, I felt exhilarated. But I couldn't walk because I hadn't used my muscles in 18 months."
A student asked for Strauss's most vivid memory of the Holocaust and, he replied, "There are a lot of ugly memories. But the worst was when my father escaped from his work assignment. He'd been beaten, his nose was broken and his appearance was a total shock. And afterward, my parents fought; they were ruined by the war."
Strauss loved President Harry Truman, though. "He had a bill passed to allow people like me military transport to come to the U.S.," said Strauss. "I didn't speak any English, so the kids avoided me." He later wrote books about his experiences.
A boy asked how he feels about the Germans today, and Strauss said he doesn't hate them or any people. "I think of people as individuals," he said. When asked how being isolated affected him, Strauss answered, "I became more introspective. I live on a farm and can depend on my own resources without society."
It was his second time participating in WWII Day and he called it "very impressive, but also needed, because we have to know what happened in order to look with some intelligence toward the future."
STUDENT Brandon Park interviewed some of the guests and listened to their stories. "I learned what it was like to be in the war," he said. "It's important to do this because a lot of the veterans are passing away each day, so we try to preserve the memories of the Greatest Generation."
Student Aaron Opoku mostly asked "how the events of WWII affected their lives today and what lessons it taught them. They said, when you start something, you should finish it. And they learned to appreciate all the small things in life and not take them for granted."
Aaron said reading history textbooks bored him. "But this was interesting," he said. "It's more exciting to hear about history from one person's point of view, and with emotion, and I'll remember it longer."
"It's a fun experience because you got to talk to veterans who were really there and get a first-person account," added student Zach Lawrence. "It also helps us understand why they didn't like the enemy and their passion for what they did during the war. The veterans provided lots of solid facts and information about their day-to-day lives during the war — and about their families' lives, both as civilians and soldiers."
Peter Koch was also a WWII veteran, but for the other side. He flew with the German Luftwaffe out of Poland and Germany. "They started building gliders — soaring planes — and I'd fly in them with my father and his friends when I was 8 or 9," said Koch. "My father was one of the youngest Navy pilots in WWI and, at the end of 1943, I joined the Navy, too."
Koch was trained to fly Germany's first jet planes, the Messerschmitts. But toward the end of the war, he said, "There was no more fuel to fly them, so I was assigned to an airborne division of paratroopers. But they didn't have fuel to transport us so, at the end of 1944, I went to Poland."
A student asked what his scariest experience was, and Koch said it came in 1945 "when the Russians made a 26-hour bombardment of Berlin. The earth was shaking and we were in trenches. It was a horrible experience, and I lost a lot of my buddies."
Another student asked if he agreed with Hitler's thoughts and ideas. "Hitler came to power before 1930 and got Germany out of its post-WWI slump," replied Koch. "So he was successful and people believed him. But what made him so successful was his terrible propaganda machine, so I grew up believing it and believing we'd win the war. But when we started running out of fuel, I began doubting it."
Much later, after he finished college in 1953, Koch "met American officers in Germany who shared my interest in engineering and we became friends. I came to the U.S. in 1956 on an engineering contract and married an American woman."
He said people here didn't show any resentment toward him, and one of his friends was a former American prisoner-of-war in Germany. He also found many things in common with Americans and now considers himself 95 percent American.
Koch said Rocky Run's WWII Day "gives me an opportunity to open up about my memories and to tell the younger generation that war is no use — it's destructive. What did Europe gain from two world wars? Nothing."
ALSO SHARING her experiences was Ruth Erno, 91, who was a Navy communications officer. She joined in 1943 at age 21 and, as she spoke to the students, beside her was a photo of herself in uniform.
"There'd be whole generations of families who worked in the Navy shipyards at Portsmouth, N.H., so they couldn't imagine taking order from me, but we worked it out," she said. "I was in charge of a communications station; and in Washington, I published three documents used by radio officers."
Although she and the others worked long hours, Erno said their job was "thrilling and exciting. In the Navy, everything you do is teamwork, and you feel a personal responsibility for what you do. I was a WAVE [Women Accepted for Volunteer Emergency] service. It was established July 30, 1942, for women in the Naval Reserves. In the late 1940s, the law was changed to allow women to stay in the Navy."
When Erno first went in, she was enlisted and was trained to repair aircraft. But radio operators were needed at the 1st Naval District Headquarters, so she received on-the-job training and was later sent to communications college.
"I sent and received messages to and from ships by radio — or by the newest thing then, teletype," she said. "Later, I was responsible for the message center and was also in charge of the Navy post office and telephone exchange on base, as well as dockside communications for ships coming in."
Erno said her most memorable, wartime moment was when she was at Portsmouth and was the only woman in uniform. "I did the public relations for special events and got to meet the governors and their families who came there," she said. "I'd also escort them when they visited submarines and an aircraft carrier."
This was her second visit to Rocky Run, and she was pleased to participate in the special event. "Today, many of the servicemen who come back don't talk about their experiences," she said. "But I enjoy being with young people. My degree was in education, and I don't think the WWII section in the textbooks is large enough."