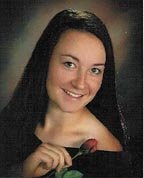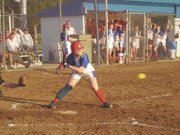 When Samantha Louk was moved to the catcher position from outfield prior to her senior season as a member of the Park View High girls' softball team, she took the change in stride and had a positive attitude about it.
Louk had loved playing in the outfield the year before as a junior, but she understood coach Ed Abner's purpose for the position change — it was simply the best move for a team that had lost its previous starting catcher to graduation. Abner believed Louk was best suited to play the position.
"You're more involved in the game," said Louk, who was batterymate of best friend and senior pitcher Laura Heironimus. "I really liked the switch because catcher is such a pivotal position."
Both players were first string at their respective positions for the first time as seniors. Heironimus, the prior year, had been Park View's backup pitcher. As 12th graders, the twosome was working together as pitcher-catcher.
"It was real cool," said Louk, of working with ace pitcher Heironimus. "It worked out very well."
Louk, on top of her physical duties behind the plate, was also asked to call pitches throughout games.
"You put a lot more thought into it when you're calling the game," said Louk.
Both players made the transitions to their new roles and their important positions extremely well. Park View, led by both Louk and Heironimus, finished second place in the regular season of the eight-team Dulles District standings, behind first place Broad Run. It marked the second straight season in which the Patriots earned a second place finish.
Park View, which went 11-3 in district play over the regular season, saw its season end with a district tournament loss to Loudoun County in a semifinals game.
But overall, it was an outstanding season for Park View, and team leaders Louk and Heironimus were huge factors in the teams' success.
<b>LOUK</b> had an outstanding season. She was solid defensively and called a good game, and also threw out several base runners attempting to steal. At the plate, she batted over .400 to lead the team.
She earned First Team All-District honors and also made the All-District Academic Team with a 3.5 GPA.
"She was a phenomenal player and called phenomenal games," said coach Abner, of Louk. "She got better every game."
Louk was pleased with her season and the team's season overall.
"Making first Team All-District was a big deal for me," she said. "I just felt like we had a really good group of kids and a real connection."
The right-handed, clean-up slugger was one of the most feared hitters in the district.
"She's a line drive hitter and drove in key runs for us in the season," said Abner, of Louk. "Most of her [five] doubles were rockets to right center field or left center field and into the gaps."
While Park View had numerous players back from its 2007 team that had finished a strong 15-7 overall, the Patriots' infield had several underclassmen whom were getting their feet wet as varsity starters. Abner credited Louk, a team captain, with providing solid leadership to those players in particular.
"Our four infielders were mostly sophomores and freshmen and she had a calming influence on them," said Abner. "She was the person who kept the team together. They looked for her to come through. She's a phenomenal leader and led by example."
Louk said Park View's young infielders were all talented. They just needed game experience.
"All the girls could play well physically," said Louk, who over the years has played travel softball with the Ashburn Shooting Stars, the 14U Virginia Crush and the 16U Baseliners. "Laura and I just had to calm them down sometimes in the infield when they got nervous."
<b>AS A SOPHOMORE</b> in 2006, Abner was a part-time starter. The following season, as a junior, she was a full-time starting outfielder. She earned All-District accolades for the first time that season.
And she had another outstanding season as a senior at her new position — catcher. Abner could not have been more proud of the way Louk took on both her catching duties and her role as a team captain.
"She's everything I've ever asked of a player," he said. "She's a phenomenal young lady and I will miss her. She was my favorite, I think. She's going to be hard to replace. She really came through for us."
Louk will attend the University of Mary Washington (Fredericksburg) this upcoming school year. She wants to study political science. She has earned some scholarship money through a program from Wegman's, where she is working this summer.