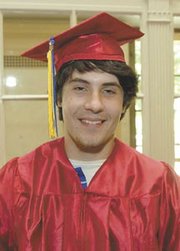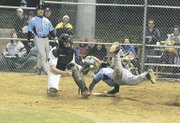 If there were times this past spring season when the McLean High baseball team was not emotionally charged up in the dugout during games, senior catcher David Roffman made sure such flat line moments did not last long.
The animated Roffman, along with being a solid player on the field for the Highlanders, was also an emotional leader for coach John Thomas' team.
He was the guy in the dugout who kept things lively by encouraging teammates on and keeping spirits up even if McLean was struggling.
"I've been doing that since Little League," said Roffman, who grew up in the McLean area and played his youth baseball within the Falls Church Little League.
The Highlanders did not struggle often this past spring as they put together 15 total wins on the season and finished with a stellar 11-5 record in the Liberty District during the regular season. In the postseason, McLean defeated Woodson in a quarterfinals round playoff game of the district tournament before falling to eventual district champion Stone Bridge in the semifinals. At regionals, McLean saw its season end with a first round loss to Lake Braddock.
But overall, it was a winning, successful season for McLean, and Roffman provided the team with lots of hard work behind the plate and heart as well.
"He did a great job for us and is a great kid," said McLean coach John Thomas. "He was our emotional leader on the field all year.
"David is like another coach," said Thomas. "He was always making sure our dugout was lively. Your dugout needs to be rocking. David does a good job of that and the kids enjoy his enthusiasm. He got guys fired up all the time."
<b>ROFFMAN</b> earned Honorable Mention All-District accolades as a catcher in his senior season. His 12th grade campaign marked his first as the Highlanders' full time starting backstop. As a sophomore two years earlier, Roffman had been a backup player on the varsity roster. The following year as a junior, he shared the starting catching duties on a McLean outfit that finished 12-11 overall. But he won the full time starting role in his senior season.
"He really earned that," said Thomas, of Roffman becoming the teams full-time starting catcher. "We really opened the competition up [during the pre-season]."
Roffman's strengths throughout the season were his defensive prowess at catcher and his ability to work with his pitchers.
"He did a great job defensively behind the plate," said Thomas. "He was a rock behind the plate. I felt there wasn't a better defensive [catcher] in the district. He blocks balls as well as any catcher around here. And I felt he did a great job handling some of our younger pitchers."
Roffman, who threw out nine runners in attempted steal situations during the season, did an excellent job working with sophomore starting pitchers Denis Buckley, who went 5-1 on the season, and Sean Fitzgerald, who was 5-3. Both pitchers earned All-District and All-Region honors.
"I felt he did a great job working with some of our younger pitchers. He worked real good with Denis, [helping him] get a lot of border line strikes," said Thomas, of Roffman's ability to frame pitches in the strike zone. "He received the ball real well and was a huge part of our pitching staff's [success] and our defense."
At the plate, Roffman, from the No. 7 spot in the McLean batting order, hit .235 but showed good improvement in the batters' box as the season moved on. He knocked in 12 runs and hit a home run.
"He really improved a lot as a hitter and worked real hard on his swing," said Thomas. "He really handled the bat well. He moved runners by hitting behind them and he bunted well."
Thomas said McLean would not have fared so well this past season without Roffman, who was a Highlander team co-captain.
"There is no way we win 15 games without David behind the plate," said the coach.
Roffman said McLean was a cohesive club.
"We bonded real fast," he said. "One of the strengths as a team is we had good chemistry. The seniors really embraced the [underclassmen]. It didn't matter what year we were, we were all teammates."
Roffman, who is headed to Old Dominion University this upcoming school year, loved his high school baseball experience.
"I played with a great group of guys and was friends with all of them," said Roffman, who said he will try to make the ODU team as a walk-on. "Playing with them was a lot of fun."