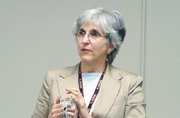 Denise Morgan was not your average second-grader. Unlike her classmates who hoped to become firefighters and astronauts, Morgan knew at the time she wanted to be a librarian. After graduating from Rutgers University in New Brunswick, New Jersey, Morgan moved to Fairfax County to work with the public library system. With 22 years of experience in the FCPL, she is now Branch Manager at Sherwood Library in Mount Vernon. Morgan talks about her role at Sherwood as well as what the library is doing to promote reading in the area.
<b> Why did you decide to become a librarian?</b>
As I recall, it was second grade and because I like to read, and my best friends liked to read, and we all had more fun at the library than playing school.
<b> How did you get where you are today?</b>
I've been with FCPL about 22 years and worked at several branches, some two or three times. Experience helps, and being open to new ideas, especially from colleagues.
<b> How many years have you been director?</b>
I was branch manager at Lorton for about three years, was assistant branch manager at George Mason for about 18 months, and started here as Branch Manager at Sherwood on March 29.
<b> What is the best part about your job?</b>
My favorite parts are working with community projects and with students' homework questions. I generally learn along with the kids.
<b> What is the most difficult part of your job?</b>
There are often conflicting interests among customers. For instance,
some want to find all recorded copies of novels by an author together,
regardless of format. Some only want to browse in the format they own.
<b> Books you would recommend and why?</b>
Free for All by Don Borchert. It's about working in public libraries.
I also liked Rise and Shine by Anna Quindlen and Shibumi by Trevanian.
Jacob Have I Loved, by Katherine Paterson and Mara, Daughter of the Nile
by Eloise McGraw for middle schoolers.
<b> What are you doing to promote reading in your area?</b>
Along with all our FCPL branches, we host several book clubs for different age groups. In the summer, we actively promote our Summer Reading Program, this year themed Art in the Pages to go along with the new public art at most branches. Our staff talks books at our local schools before summer begins to awaken interest in the summer programs. Here at Sherwood, we work closely with the Literacy Council and host several classes a week. All FCPL branches have collections for folks learning to read English, and kits with matched recorded books and printed books to make it easier to learn. Our branch attends back to school nights, and literacy events at local schools, as well. Our information staff also demonstrates the readers' portions of the FCPL website www.fairfaxcounty.gov/library that helps identify books in series, authors with common themes, etc.
<b> Favorite movie?</b>
Kentucky Fried Movie, I think. Maybe Blazing Saddles
<b> Favorite local restaurant?</b>
Too many to list
<b> Favorite thing to do on weekends?</b>
Visit grandkids in South Carolina; and cross-stitch
<b> Best part about Alexandria?</b>
The Sherwood Regional Library and the Farmers' Market on Tuesday mornings, of course.