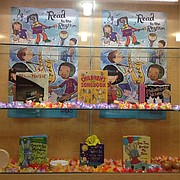 Children break free of their parent's hand and saunter into the library, chin up and grinning from ear to ear, and trade their Fairfax County Public Library (FCPL) summer reading logs for a coupon booklet.
To lure students into the library, the Youth Services Manager of Dolley Madison Library, Tina Mraz, notified children at McLean elementary schools about the Summer Reading Program.
For the first time, Dolley Madison Library visited Kent Gardens Elementary School, resulting in Kent Gardens having the highest percentage of students participating in the Summer Reading Program of all McLean elementary schools.
In addition to visiting schools, Dolley Madison Library hosted performers such as puppeteers, zookeepers and magicians. The entertainers tailored their acts to promote reading.
For instance, magician Brian Curry performed tricks relating to favorite books. Curry described the book Matilda, a story in which a child uses her mind to move objects. He left the children awestruck with the illusion of levitating a table.
"All the titles he mentioned flew off the shelves. After the Rainforest and Under the Sea animal performances, animal books went like crazy," Mraz said.
FCPL encourages children to read over the summer so they not only strengthen their reading skills but also avoid the summer slide, which occurs when students abstain from reading and, consequently, reading skills regress.
"FCPL and the schools want kids to keep reading because if they don't, studies show that kids return to school in the fall having lost ground in their reading skills," Program and Educational Services Manager for FCPL and head of the Summer Reading Program Ted Kavich said.
Despite a lack of homework, the Summer Reading Program draws children into the library over the summer and excites them about reading.
"I meet a lot of kids who are reading for the joy of reading, not because they have to," Assistant Branch Manager and Librarian at Dolley Madison Library Jill Johnson said.
New this summer, Mraz started My First Book Club for children from kindergarten through second grade. Mraz reads, discusses and does crafts related to the books.
Once a child completes the summer reading log, he or she can acquire a coupon booklet. Coupons include free or discounted ice cream, golf, water park admission and more.
Some big sponsors include The Friends of the George Mason Regional Library in Annandale, The Fairfax Library Foundation and Friends of the Kings Park Library in Burke.