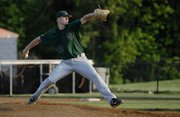 In one of South County pitcher Jesse Beal's final performances in a Stallions' uniform, the graduating senior threw a complete-game victory over Madison High School in the first round of the AAA Northern Region tournament. Beal struck out 12 Warhawks as tensions rose during the game. The towering 6-foot-6 righty's demeanor during the game earned him little love in Madison's dugout, but South County head coach Mark Luther was impressed with his pitcher's competitiveness.
"That night he showed a real competitiveness about him that we really hadn't seen from him during his career," he said. "He showed a tremendous amount of competitiveness that night and I'm sure that if I had him in the future as a coach, that would be something that I would look forward to, how bad he wanted it that night."
It's still up in the air, however, who will be coaching Beal, who was a second-team all-region selection this year.
Before the 2008 season, the Stallion hurler, who went 8-4 during his junior year with 70 strikeouts and a 3.07 ERA, signed with the University of Maryland to continue his baseball career in college. Earlier this month, however, Beal was drafted in the 14th round (416 overall) by the Baltimore Orioles in the Major League Baseball first-year player draft, leaving his future path left undecided.
Luther, however, believes that Beal will stick with Maryland.
"He wanted to play in the ACC and play at a big-time school. He wanted to play in very competitive baseball," he said. "He is still very young. One thing about him that the scouts were all surprised about is that he is still on 17-years old, [but] they saw what kind of stuff that he had."