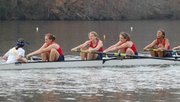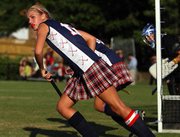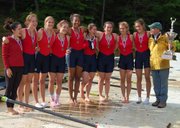 Kerry Donley, the T.C. Williams director of student activities who will leave his post August 1, approached the microphone at a recent Alexandria Sportsman's Club banquet in lieu of his daughter.
Cara Donley, a recent T.C. Williams graduate and one of only a select few Titans to grab Division I scholarships, was unable to make the award presentation. Turns out as Kerry Donley, the former Alexandria mayor explained that his fourth daughter was actually receiving another award the same night.
Ever since eighth grade, the 5-foot-10 blonde has been rowing with Steve Weir and T.C. Williams. A year later, she was awarded a seat in the first varsity eight boat, and never relinquished the chair over the following four years.
"I think what's been good for her is her build," Donley said. "She's got long legs and that lends itself to being a good rower because you're really using more of your legs than your arms."
She played basketball for three seasons, but relented and instead focused her determination crew. A normal day means a structured school schedule, which tips off with a 4:45 a.m. wake-up call before heading out to the Potomac.
"It really helps me with my school work," Cara Donley said. "You have to be really committed."
As a freshman, Donley recalls placing an unexpected third at the Canadian Championship. A year later, her boat won the Canadian Championship, along with the Virginia Championships in 2006 and 2008. As a junior she was named the Old Dominion Boat Club Rower of the Year.
"What set her apart was the mental aspect," Kerry Donley said. "She developed an attitude that set, I'm not going to get beat and it translated into field hockey. It meant that when she does the runs, she's first. That attitude is infectious and gets to other kids on the boat."
Donley also played field hockey for five seasons, even getting second-team all-district honors as a senior. The Titans tied St. Stephen's & St. Agnes, giving the Saints their only blemish en route to a perfect record. But crew remained her true passion.
"It's the one sport where you can push yourself to the max," Cara Donley said. "In field hockey, you can try your hardest and always give a little more, but with crew, it's so mentally tough. It separates the weak ones from the other people."
Cara Donley will row at Indiana University next season, where she received almost a 70 percent scholarship. After visiting IU following a camp at Ohio State, she was hooked.
"When I went there, I knew," Cara Donley said. "The atmosphere was so fun and I knew I really wanted to be a part of that.
As one of five daughters, she admits she didn't have much choice, but to be tough. With crew as her main objective, she feels like she's found a sport that translates to her strong suits.
"We wanted to be the best at something," Cara Donley said. "We all have our niche and crew was mine."