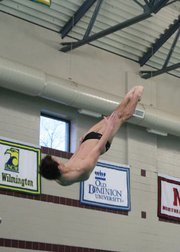 On a typical summer day, Bryan Bahr spends three hours at the pool with another tacked on for the commute. Only the recent Mount Vernon graduate isn't lounging or absorbing the sun like most 18-year-olds during the summer.
Bahr dives. And he dives intently, under the instruction of club coach and soon-to-be-college coach Roland McDonald and assistant Tim Fisher. It's what the George Mason-bound bundle of twists, turns and flips breathes for.
Bahr overcame a broken hand last season, which derailed much of his 2007 season to capture the Virginia Group AAA individual diving title. With a score of 454.05, during a difficult inward 1 1/2 somersault pike, the Major senior vindicated a runner-up finish as a junior.
"This year I worked as hard as I ever have and I guess it paid off in me winning the state title," Bahr said. "It felt good to get actual recognition for diving because people really don't focus on how difficult it really is."
At the pool, Bahr spends the first 30 minutes alternating between stretching and conditioning, before the two-hour instruction session. It's a painful process, constantly molding older dives while still maintaining enough gall to install riskier, more difficult dives.
"The sport is almost all mental," Bahr said. "You have to have a no fear aspect of daily life."
<b>AT A MEET</b> last summer and mere months from the prized AAU National tournament, which Bahr probably would have won, the rising senior cracked his hand on the board. It's something he said he's never done before, but the resulting injury kept him from the mid-to-late summer schedule, which included the AAU tournament.
"Right before he broke his hand, he was on the top of his game," said Mary Bahr, who regularly drives Bryan to practice. "To come back as hard as he did and be rewarded for it, especially in his senior year, it was just pure elation and joy for him."
A multiple school record holder, Bryan Bahr was a three-time National District champion, and was named Mount Vernon's most valuable diver for four consecutive seasons.
Bryan Bahr followed a friend into diving at age 11, and never quit. Now, diving consumes a solid five days per week. In addition to spending four days weekly with the Patriot Dive Club at George Mason University, where he'll dive next season, Bahr heads to a one-meter, three-meter and platform facility in Rockville, Md. once a week.
"We would give up anything for the kids, for them to have the opportunity to do something we never got a chance to do," Mary Bahr said about her youngest sonHe recently competed in a meet in Boston and another one in New York, and will head to Coral Springs, Fla. for the AAU national tournament in late July. The travel is a perk, but it's also taken a financial toll on the family, which has to pay virtually all of it out of pocket.
"We had to do a lot of traveling and all of the traveling was at our own expense," Mary Bahr said. "All the flights, the hotels, the car rentals, even the apparel for diving, which you wouldn't think would be that expensive…we gave up a lot. We don't do family trips anymore because all of the vacations have been traveling around with Bryan."
But the boasting mother also added boasted one final fact, especially after watching him graduate last week, "I couldn't be more proud of Bryan."