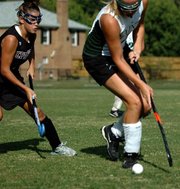 Annie Taylor talks a million miles per hour, almost like she's in a race with an opponent as to who can intelligently articulate and annunciate the fastest. Racing, competition and sheer sport is what makes the recent St. Stephen's & St. Agnes standout so special.
Swimming for the Belle Haven Country Club when she was younger, Taylor openly admits to throwing tantrums following races, not because she lost, but because she didn't crack her previous record time.
"She is one of those intense, all-around, could play any position type kid who does anything you ask of her," said Cathy Jenkins, the SSSAS girls lacrosse coach who recently cracked the 500-win mark. "She's could have been a top notch athlete in any sport she played. If she concentrated on basketball or field hockey, she would have been as good as lacrosse."
Jenkins can easily imagine it, her ultra intense elite recruit, at six years old, completely flabbergasted that she didn't win — by even more. That's Taylor, who spearheaded an assault on the Saint history books as a key member of the famed senior class.
First, it was field hockey. A four-year player — she played three sports all four seasons — she was the senior captain who helped Marsha Way earned her 500th win. They capped an undefeated season by becoming the first-ever SSSAS team to win the Independent School League regular season and tournament title, along with the Virginia Independent School Athletics Association state championship.
"We knew it was time to make history or be history," Taylor said. "I was the probably the voice of the team. I am the loudest girl, coaches often tell me that. What I took upon myself was to be the motivator, the encourager and one of the hardest working players on the team so everyday I would try to work my butt off to set an example."
During basketball, the 5-foot-10 Taylor matched up offensively against bigger opponents, but still guarded the shiftier perimeter players on defense. She admits basketball is a distant third, but found similarities between her main sport, lacrosse, and basketball.
"It's so much like lacrosse," Taylor said. "It took me awhile to see the parallels between the two sports, but now I realize that how similar they are."
<b>HEADING INTO</b> her senior season, Taylor knew that SSSAS had an opportunity to be an elite team. Having lost 10 Division I athletes from last season's championship squad, however, she never imagined that she'd be a captain and voted the team's most valuable player of the nation's best team.
"I dream about this," said Taylor, who had 36 goals, 14 assists, 35 groundballs and 61 draw controls. "The emotions that are inside of me are overwhelming. It's been such an honor to play for this team. Playing with those girls has been the biggest prize of the season, and it's only fitting that we end up No. 1."
Taylor, a midfielder, was voted an All-American in lacrosse, all-state in field hockey and lacrosse and was the runner-up for the Heather Leigh Albert Award at the national tournament, an award given to the top player.
As one of the nation's blue-chip recruits last summer, Taylor verballed on the University of Virginia, which she called her "dream school." She will join four other SSSAS grads already on the Cavaliers.
"She compares to the top players because of her intensity and her work ethic in how driven she is," Jenkins said. "The top players that have done really well at the next level and at the USA level have that intensity that they are not going to lose."
Taylor credits Jenkins, the longtime uber-successful Saint coach for molding her into the player she's become. She cited a specific instance prior to the St. Paul's game this season, when Jenkins didn't start her senior captain because she was two minutes late.
"Words can't even describe what I think of her," said Taylor, who is also the senior class co-president and maintained a 3.85 GPA. "She's been the positive role model in my life. I can't even think of the amount of girls that have gone through her program, but she makes sure that each one feels special. She gives her 100 percent attention to make sure that everyone gets into the right school, making sure they improve themselves as a person. She's amazing."