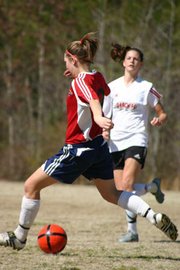 For both the Mount Vernon field hockey and soccer teams, Beverly Hoath was a critical last line of defense. An all-district and all-region selection in both sports, the normally reserved senior was charged with uprooting the opposing attack, and reserving field.
Kind of like her older sister, Ashley Hoath, who used to man the Mount Vernon fields in a similar role. Beverly Hoath, continuing in her sister's footsteps will join her sister on a new field, this time as a teammate at Lynchburg College in the fall.
"Ever since her freshman year when she told me how much she loved playing and going there, I didn't even think of going to another school," Beverley Hoath said on Tuesday. "It's where I wanted to be."
Last season Ashley Hoath, a second-team all-conference selection during her sophomore season, helped the Hornets to a Division III Elite Eight appearance — the school's second-ever. Now the elder sister will be a junior midfielder, with Beverly soon set to join the Hornets' fold.
The college season starts on Aug. 15, and after last season's conference championship — the program's third in four years and seventh overall — Hornet coach, Dr. Todd Olsen, is focusing on advancing past the D-III Elite Eight.
During her senior season, with a new head coach in place, Mount Vernon reached the district finals, only to falter to Yorktown. Beverly Hoath was selected to the first-team all-region and all-district teams.
<b>IN FIELD HOCKEY</b>, Beverly Hoath teamed with Meghan MacNair, in morphing the Majors into a legitimate regional contender. Mount Vernon went through the district regular season undefeated, but couldn't prevent Edison from winning its third straight National District championship.
"She was definitely a quiet leader," said Mount Vernon hockey coach Ellen MacNair. "She's not one of the most outspoken people on the field or off the field, but she is just a stellar player. She's always going to step up to the ball."
Even though Meghan MacNair, the coach's daughter described Beverly Hoath as a 'goofball,' she cited the respect she commanded amongst her teammates.
"She can joke around, but she's always knows when to get everyone serious," said Meghan MacNair, who also heads off to Lynchburg in the fall. "Everyone listens to Bev. She's great to work with."
But Hoath's real forte was in the back line, knowing when and when not to choose her spots.
"She distributes the ball all over the field, lets the players know who's marking and who's not marking," Ellen MacNair said. "She's great to work with as a coach — you just can't have a better player."