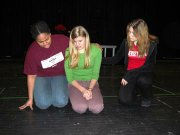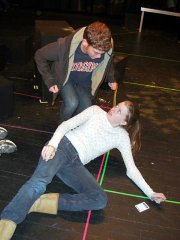 Langley High School's Saxon Theatre produced the hilarious and witty musical "Urinetown" in November. We had full houses and got rave reviews. This show was a total blast to be a part of. Congratulations to the cast and crew.
In December we went on our annual New York Theatre Field Trip. In addition to workshops and seminars with professional actors, we saw Tom Stoppard's "Rock 'N Roll" and "Xanadu"
Saxon Stage celebrated the New Year by performing at Disneyworld in Orlando. Students participated in the National Performing Arts Festival. In addition to their performance they attended workshops with the pros at Disneyworld and enjoyed free time at The Magic Kingdom, Epcot, MGM and Animal Kingdom. Our cast was Wes Brandt, Caitlin Bruner, Allie Carlon, John Endean, Taplan Endres, Lauren Engel, Matt Evans, Ari Glantz, Nate Herrman, Josh Hicks, Scott Immel, Shannon Kovach, Sarah Mendelsohn, LJ Miller, Phil Snell and Liz Walcott.
This past semester break, our Drama 2 students performed their student directed play, "Wait, Wait Bo Bait" at the VHSL short play festival. Students included: Allie Carlon, Kate DaRocha, Taplan Endres, Shannon Kovach, Emily Mannon, Sarah Mendelsohn, Roma Moradian, Maryam Sedaghatpour, and Janie Yurecko.
As we go to press, our spring play will be performed on March 6-8. The intense and mysterious play, "Rimers of Eldtrich" by Landford Wilson. The ensemble cast illuminated this stark and stylized production.
Our next and last activity for the year is our acclaimed, Student-Directed Short Plays April 25-26. Directors to be named later.
— Phyllis Jaffee