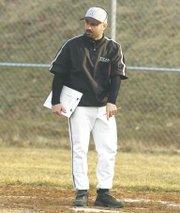 The Dominion High baseball team experienced a good season last year in going 13-7 overall. But there was a sense of unfullfillment for the Titans, who saw their season end with a first round loss to Heritage at the Dulles District playoffs.
Dominion, under fifth year head coach Jay Raines, hopes to become one of the district's better teams this spring.
"In this district, we're striving to get in the top four [during the regular season] and to host a [first round] playoff game," said Raines, who lost a large number of players to graduation from last year's team. "We want to try to put them in the best position to win and for them to enjoy baseball."
The team's best returning player from a year ago is junior second baseman Chris Taylor, who batted .426 last spring and earned First Team All-District and First Team All-Region recognition. He broke school records in both batting average and number of hits in a season.
Taylor was also one of his team's top pitchers last year. A lack of hitting support resulted in his going 3-5 on the mound, but he had a solid 3.12 ERA and struck out 59 hitters over 53 innings. He also earned two saves out of the bullpen.
"He's definitely our go-to guy," said Raines, of the pitching ace. "He's a kid who throws in the mid 80's. He's polished up his mechanics. He should be one of the top two to three pitchers in the district."
Taylor, whose older brother, Jordan, is playing collegiate baseball at Columbia Union (Div. 2), is all business when he gets on the pitching mound.
"When he's on the mound, you're going to have to bring your `A' game to take him out," said Raines.
ONE OF DOMINION'S top position players this season will be senior Geoff McCowat, who batted .441 last spring and earned Second Team All-District accolades as a designated hitter. This season, McCowat will play first base for the Titans. He will also be the team's No. 2 starting pitcher. His fastball has been clocked in the low 80's, according to Raines. The coach said his team has a formidable one-two starting pitching punch with Taylor and McCowat.
"They should keep us in a lot of games this year," said Raines.
Behind the plate for Dominion will be junior Anthony Bartolotti, a left-handed swinger. Raines said Bartolotti got better and better at catcher as the 2007 season went on.
"He became a real solid defensive catcher," said Raines. "He was kind of new to the position last year. [At the plate] his hitting should improve [this spring]."
Dominion was scheduled to play three non-district games this week to open up the new season, beginning with a home game against Manassas Park on Wednesday. The team was scheduled to play home against Stuart on Friday and at Gar-Field on Saturday.