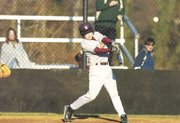 Going into this week, the Dominion High baseball team carried an impressive overall record of 6-2 and was 2-0 in the Dulles District standings, tied atop of the league with both Broad Run and Potomac Falls.
The Titans' two district wins have come over both Freedom and Briar Woods. The non-district victories have come over Gar-Field of Dale City (2 wins over the Indians), King George High and Stuart (Falls Church).
The losses have come to Stonewall Jackson and Manassas Park.
Dominion, coming off a 13-7 season in 2007, has impressed coach Jay Raines with the way it has played thus far.
"I'm happy with the way we're playing," said Raines. "We lost an awful lot of seniors [to graduation]. [Defensively] we want our guys to make the routine plays. [At the plate] we want them to understand our game plan. We're trying to focus a lot on base running. We have decent team speed and we're trying to take advantage of our speed."
The highlight of the season thus far came in one of the wins over Gar-Field, a 7-0 triumph at Gar-Field in mid-March. In the game, Dominion senior starting pitcher Geoff McCowat tossed one of the greatest games in local high school baseball history with a startling 20-strikeout performance over seven innings of work.
McCowat, who a year ago earned Second Team All-District accolades as a DH after hitting .441, is playing first base this season when he is not on the mound. He entered the season as the Titans' No. 2 starting pitcher, behind No. 1 starter Chris Taylor.
On the night to remember, McCowat, whose fastball tops off in the 80's, had all of his pitches (change-up, curve) working for him.
"I don't know if the stars were aligned or what," said Raines. "Everything he had was working. He struck out eight in a row [at one point]. I've seen guys throw between 10 and 14 strikeouts [before]. It was an impressive performance. Everything he threw had movement."
Gar-Field did manage a couple of singles on the night, but that was it.
McGowat was also spectacular at the plate that night, knocking out two home runs, hitting a double and finishing the game with five RBIs.
Unfortunately, McCowat, since the brilliant pitching outing, has been struggling with a foot injury.
<b>DOMINION</b> has been without shortstop Jonathan Noro most of the season. Noro injured his thumb in the season opener and has not been available since. Raines was hoping Noro might be able to play again this week.
Taylor, a second baseman and the No. 1 starting pitcher, has had a terrific season. At the plate, the junior is getting on base with high frequency. On the mound, he was 2-1 with a save going into this week.
In Dominion's recent 8-2 home win over Briar Woods, Taylor earned the complete game win, allowing four hits and striking out seven.
Also having a solid season is junior catcher Anthony Bartolotti, who hits behind Taylor in the order. Raines said opposing teams have been pitching around Taylor, and Bartolotti has been making them pay by hitting well.
Dominion's only game this week was scheduled to be on Tuesday night against Park View.
More like this story