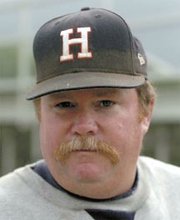 Herndon High baseball coach Al McCullock is making some line-up changes this season in hopes that the Hornets will improve from last year's tough 5-16 campaign.
"We weren't too successful last year, so we're trying some new things," said McCullock.
Herndon's 15-player varsity roster consists of 11 players who were a part of last year's team.
"We're hoping we've gotten better and that [the kids] are hungry to win," said McCullock.
On Wednesday of this week, Herndon was scheduled to leave the area for Florida, where it will play three games at the Bucky Dent Baseball School in Del Ray Beach. The Hornets have made early season trips to the sunshine state in recent seasons, as well.
McCullock's squad will look to tighten up their game in Florida so that they'll be playing good baseball upon returning home next week. In their first game back, Herndon will take on Park View High School in a non-district contest next Monday.
"Here, it's freezing cold, wet and dreary," said McCullock, of another Northern Virginia baseball spring in which poor weather has forced teams indoors with little outdoor practice time. "In Florida, you can get a bunch of kids out there [on the diamond] working hard. We'll see what happens."
Herndon's top starting pitchers this season will be seniors Davis Hall, a right hander who is coming off a strong 2007 season, and southpaw Mike Hitti.
"They throw the ball hard," said McCullock, of the twosome. "Control [of pitches] is the big thing for them, and consistency is a big key. Davis continued to get better last year. They both worked hard in the offseason."
The team's starting catcher this season will be Zach Leach, who played left field for Herndon last year.
Another player who can play the backstop position is Ian McNichol, a versatile player who could see action at numerous positions such as catcher, shortstop or third base.
The team will be strong in center field with returning starter Chris Medina, a junior, back in the lineup.
The South Lakes High baseball team will be looking to improve on last year's 7-13 overall record. The 2007 Seahawks saw their season end with a first round loss to Marshall at the Liberty District tournament.
The Seahawks' top returning player this spring is senior catcher Scott Reed, a fourth year starting player who earned All-Liberty District honors last year as a junior.
Reed, who recently committed to play the sport collegiately at Bucknell University, threw out 22 base runners over 21 games from his catcher position last year. At the plate, he batted .300 and led South Lakes in RBIs. During his high school career at South Lakes, Reed has also seen action at third base.
Reed has also excelled as a football player at South Lakes. Last fall, he completed his high school gridiron career by tossing 14 touchdown passes as the Seahawks' starting quarterback.
South Lakes head baseball coach Galvin Morris is looking for a strong season on the diamond from Reed this spring.
"He's one of the best players in our district," said Morris, in his 10th season as the South Lakes head coach. "He has a strong arm and shuts down other teams' running game."
Other key seniors for South Lakes this season will be center fielder Noah Sweet, a fourth-year starter and All-District selection last year, and first baseman/pitcher Paul Kirchner, a third year varsity player.
A newcomer to this year's club is junior Andrew Thomas-Clavo, a transfer student from California who will play the shortstop position. During a recent scrimmage game against Chantilly, Thomas-Clavo helped turn four double plays for the Seahawks.
"You can tell he's played the game," said Morris, of his new shortstop.
Another junior on this season's roster is second baseman John Baamonde.
Seeing mound duty for South Lakes will be Sweet, Kirchner, Ian Hostetler and Thomas-Clavo.
"I've got some arms I can choose from," said Morris, of his team's pitching. "[Defensively] we're strong up the middle."
South Lakes will compete at the `Let's Play Two Invitational' at Osbourn Park High School (Manassas) this weekend. The Seahawks will play two tournament games this Saturday, playing the host Osbourn Park team at 10 a.m. before playing against McKinley Tech (12:30 p.m. scheduled time). Both games will take place at Osbourn Park.
Morris believes his team can have a good season, but he knows it will not be easy for the Seahawks in the Liberty District.
"Expectations are always high," said Morris. "As a coach, you want to win the championship. But knowing we play in the Liberty District, it won't be easy."