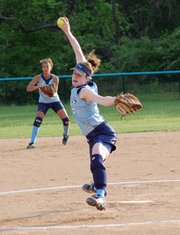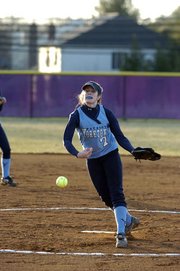 <b>Coach</b>: Al Richardson, 1st year
<b>2007 Record</b>: (15-8, 11-1)
<b>Season Ended</b>: Lost to Stone Bridge in the first round of the region tournament.
<b>Key Losses</b>: OF Casey Rolla, P/2B Bethany Belcher
<b>Key Players</b>: SS Briana Hanafin SR, C/1B Lauren Wilson SR, P Hannah Bauman JR, C/LF Stephanie Severn JR, 2B Katie Sterling SR
<b>Quotable</b>: "Yorktown is loaded. [Al Richardson] inherits a team that could win the regionals." — Tommy Orndorff, Bishop O'Connell head coach "[The girls] want to win the whole World Series, which is fine…Our first goal is to win the district outright. We're going to have to play focused softball throughout our district to be able to be solely district champs. We can't take anyone for granted." — Al Richardson, Yorktown softball coach
<b>Outlook</b>: Yorktown is returning nearly its entire team, including the National District Player and Pitcher of the Year, from a record-setting 2007 season. The only catch — and it may be a big one — is that their coach, Ron Hurling, who was also the district's Coach of the Year, isn't included in the returnees after accepting a job with Shenandoah University.
In steps Shenandoah alum Al Richardson, who takes over after extensive experience as founder and commissioner of the NoVa Blaze Fastpitch Organization.
"I'm very excited about this year with the quality of girls I have on the team," Richardson said. "I was telling the parents at the parent meeting that this is the first group of girls that I've coached where after conditioning, they would come up and say, 'thank you coach.'"
Richardson inherits a team that set new state marks for runs scored in a season (245) and hits in a season (276), breaking records held previously by Broad Run in 2001 and Hylton in 2005.
The Patriots shared the regular season district title with Mount Vernon, but failed to make it to the district championship and bowed out to Stone Bridge, the second seed from the Liberty District in the opening round of the region tournament.
"When I hang up my spikes, I want to make sure that I leave it better than when I came in," Richardson said.
This season, Yorktown will depend largely on seven players who were named to either the first or second all-district teams. Baylor signee Briana Hanafin, an all-region selection last season, has been the Patriots' most valuable player for the last two seasons and is eight in the state for runs batted in a game (6) for her one inning performance at home against Falls Church.
"Bree is the prototype athlete every coach wants," said Glenn Moore via a press release on the Baylor official athletic Web site. "She has the triple threat of the short game, power (both sides of the plate) and speed."
Another huge contributor will be Lauren Wilson, who was also an all-region selection last season, and signed with George Washington University in the fall. Seniors Sara Sims, Kristen Soroka and junior Stephanie Severn return to bolster the bats.
Senior co-captain Leah Patterson, the district's pitcher of the year last season, also returns, but junior Hannah Bauman will be likely be the No. 1 starter.
"We're no different than any other team," Richardson said. "We have the potential."
Yorktown only graduated two seniors, both of whom were named all-district. With the returning core, though, the question of whether Yorktown can compete within the region will depend on how quickly it adapts to Richardson's style.
"I think the team has the potential to go as far as they want to go, but there's a difference in life between wanting it and working for it," Richardson said.