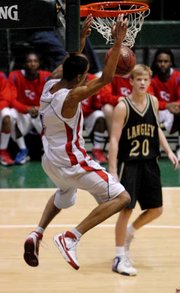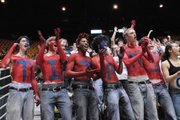 T.C. Williams junior point guard Ed Jenkins has maintained that his team is on a mission to the state championship. He, and the rest of the Titans now have the opportunity to prove themselves.
After winning the Northern Region tournament for the second consecutive year with a 66-54 win over Langley, the Liberty District tournament champions, T.C. Williams is turning its focus on Eastern Region runner-up King's Fork, who it will host at 6 p.m. on Saturday at Robinson Secondary School.
"[Making the state tournament] is like a pat on the back, but we're still on a mission," Jenkins said.
King's Fork, located in Suffolk, Va. and founded in 2003, won the Southeastern District tournament, but faltered in the region tournament, losing to Bethel by a 54-41 margin at Churchland High School on Monday night. Bethel (28-1), winners of 27 straight will host Langley (24-5) at Churchland High School on Saturday at 4 p.m.
Coached by Josh Worrell, King's Fork (24-5) needed 21 points from standout for a guard Jamar Wertz to earn a 56-55 victory over Deep Creek in the Eastern Regional semifinal. Wertz's putback at the buzzer gave the Bulldogs a state playoff berth.
<b>AGAINST LANGLEY</b>, left-handed senior Anthony Winbush scored a game-high 24 points, including an off-balance right-handed baseline trey as the first half expired to vault the Titans to their second straight region title at George Mason University's Patriot Center on March 1. The Titans are the first back-to-back winners since Wendell Byrd's South Lakes squad won three consecutive from 1992-1994.
"Winbush has one thing on his mind and that's winning," said Thomas, who was named to Northern Region Coach of the Year for the third time in six seasons. "That's his mind set."
Saxon junior Derek Baker, a 6-foot-2 O'Connell transfer, began guarding Winbush, but picked up his second foul with 1:33 remaining in the first quarter. From there, Winbush went crazy, scoring 18 in the first half.
"We had trouble matching up with them," said Langley senior Ryan Davenport, who holds the career scoring record. "We tried to go to the box-and-one, but they were ready for it…when great players like that play great games, it doesn't really matter who's playing defense. It's hard to stop them."
T.C. Williams appeared to be coasting, getting a 17-point lead as the third quarter closed. But Langley held tough, reeling off 10 straight points to pull within five. Davenport had a chance to cut it to five with less than two minutes to go, but Josh Jordan's putback off a Winbush miss sealed the win.
"I'm pleased that my guys were able to sustain the pressure all season," Thomas said. "Every night, these guys have a bull's eye on their back."
<b>IN THE SEMIFINAL</b>, T.C. Williams downed district foe Lake Braddock with a 50-37 victory. It was the fourth time the Titans defeated the Bruins this season.
"I just thought our pressure wore them down. Dominic [Morra] (a game-high 16 points) was exhausted. His tongue was hanging out. That was kind of the plan."
Lake Braddock used a slow-paced offense in the Patriot District tournament, which resulted in a 26-20 victory. But T.C. stepped up the defensive pressure and held onto the ball in the second half by only committing two turnovers.
"We knew if we were up, they couldn't continue to [stall]…I was content with 12-6 to be honest. I wasn't going to let them tire us out."
Winbush was named the tournament's most valuable player, while senior guard Travis Berry and Jenkins were both named to the all-tournament team.
"We appreciate this journey," Thomas said. "High school basketball, like college basketball is one and done. Like I told my guys, we're going to cut down the nets and collect the hardware when we can and then look forward to the next round."