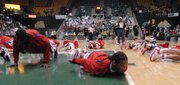 <bt>1. Talent</b>
In order to win 52 straight Patriot District games, which had never been previously accomplished, a program requires a wealth of talent. T.C. Williams, in the three years under head coach Ivan Thomas has had no shortage of skilled and versatile players, considering that 6-foot-7 lefty Anthony Winbush will likely make the Titans' third Division I signee over the past two years.
First, it was 6-foot-5 forward Marcus Lemon, who Titans head coach Ivan Thomas regards as the catalyst for T.C. Williams' unprecedented success. A senior in Thomas' first year, he was named to the first-team all-district, all-region and second-team all-state teams before heading to Gannon University (he has since transferred to Philadelphia University).
A year later, it was 6-foot-3 shooting guard Glenn Andrews, who as a senior averaged 20 points, five rebounds, three assists and two steals, along with 6-foot-9 senior forward Mike Davis, who poured in 17.3 points, added nine rebounds and had 3.5 blocks.
This season, it's been Winbush who has turned heads, with his ability to handle the ball,
penetrate and distribute from an unconventional point forward slot.
Couple that with current senior sharpshooter Travis Berry, who is getting Division II and III offers and junior point guard Ed Jenkins, who could be on the Division I recruiting radar next season.
"They're a tough matchup, geez louise," said Langely coach Travis Hess after the region championship. "They've got big kids. They've got athletic kids. Who do you put on who?"
How many other teams have had three legitimate Division I prospects in the past three years, much less on one team?
In short, <i>talent</i> has never been an issue.
<b>2. Coaching</b>
Thomas hasn't been coaching in the Northern Region all that long. Six years to be exact, with three years separated evenly between Edison and T.C. Williams. During his brief coaching tenure, he's been named Northern Region Coach of the Year three times.
Thomas won the award this season, marking back-to-back seasons at T.C. Williams. He also earned the honor in his second year at Edison.
"When I step outside myself, it's really a testament to one, the kids I have and two, the coaches in this region in recognizing me," Thomas said. "I appreciate it because only [the other coaches] know how hard it is to run a high school program."
In his three seasons at T.C. Williams, Thomas has collected a 75-11 record, including a 26-3 record heading into the first round of the state playoffs this year.
To further bolster his coaching mettle, Thomas leads some of the nation's elite recruits during the summer with his Boo Williams 17-under AAU team. Ed Davis, a 6-foot-9 forward at Benedictine (a Richmond, Va.-based private school) and one of the most coveted high school seniors (he's headed to the University of North Carolina) is an example of the caliber of player that Thomas coaches during the summer.
<b>3. Buying In</b>
Thomas cites the No. 3 reason as the single-most vital reason for T.C. Williams' continued accomplishments. And to ensure its success, he sought the advice of a former (and more famous) Titans head coach.
"When I took over the program, I had the luxury of having a mentor and someone to talk to in coach [Herman] Boone," Thomas said. "He said, 'I like what you do.' He gave me some advice. He said, 'Ivan, whenever you hear two heartbeats, you have to kill one.' That stuck with me when I took over. The two heartbeats that I heard on our team were an individual heartbeat and then a team heartbeat. We killed that."
Thomas commonly refers to the old T.C. Williams, one that he said was founded on an individualism, with his teams, which he calls the "new T.C."
"When I got here, it was an individual culture," Thomas said. "The starting line-up meant so much. It meant everything. We wanted to destroy that culture and get a team. A team surrounded by a vast number of scorers and a vast number of defensive guys that function on one heartbeat."
Thomas, considered "a master motivator" by former assistant and current Edison head coach Kevin Quinlan, has instituted subtle changes, meant to constantly highlight T.C.'s team philosophy.
Like Virginia Tech's football team, the Titans bring a toolbox full of vital ingredients to every game. Borrowing another page from the NFL's New England Patriots, the entire squad is introduced, rather than being announced individually. And Thomas makes the players sign hardhats instead of basketballs after winning a title or championship.
<b>4. System</b>
Feeling slighted because Winbush wasn't named the Patriot District Player of the Year, Thomas was content to see his senior southpaw grab 27 points in the opening round of the region tournament. Thomas believed it was Winbush's lack of consistent point production that caused Annandale's Erik Etherly to get the honor.
"First, it's the system — moving the ball around to the open guy and not running so many individual plays," Thomas said. "You don't see us run a lot of individual iso[lation] sets."
Thomas prefers for the Titans to run an up-tempo pace, which has been understated by the Titans having three double-digit scorers during each of the past three seasons. Every year, it's been a different combination.
"They're capable with the athleticism," Thomas said. "I can spread you out and say, 'hey, you take him.' But very seldom do we do that. [The system] relies on you to move the ball around."
While the offense is what drives fans and is more recognizable, Thomas has been most impressed with both the defensive effort and the players' adaptability to play opponents with contrasting styles.
"People came at us every imaginable way," Thomas said. "They play us physical, West Potomac. That didn't work. We had some teams try to play us finesse, try to spread us out and run a deliberate offense. That didn't work. And then you have a team like Lake Braddock, which I tip my hat to, that made it a low scoring game."
After the region semifinal victory over Lake Braddock, Jenkins was brief, but full of confidence in their system.
"We're going to do the same stuff we've done all year — play team ball and run," Jenkins said.
<b>5. Work Ethic</b>
A two-minute chat with Jenkins, and one can immediately tell that he's not fond of losing. The junior point guard will do just about anything to ensure the region's first state championship in 27 years and the school's first since 1977.
"We've worked a heckuva lot. We've put numerous hours in the gym in the off-season. [Making the state tournament] is like a pat on the back, but we're still on a mission."
Immediately following the region tournament victory, Thomas said the weight room would be open on Sunday with players free to come on a volunteer basis.
"We made it mandatory that you work during the summer to do certain things for the team," Thomas said. "It was a culture that we set, that you would come and lift weights with the team. The guys that didn't come, they understand that hey, this is a new generation and you have to buy into what he's saying."
After every huddle, the Titans end by chanting "blue collar" — their motto for the season.
"This is hard work," Thomas said. "As you can see with Chantilly and Westfield, it's not a given because you are good."
Again, the third-year head coach cited the smaller, subtler differences in constantly preaching effort.
"We started taking charges," Thomas said of when he first arrived. "We did a charging drill. Diving on the floor was new to them."
Now, it's a regular occurrence.
"There is no better compliment that I get than when someone says, 'man, you're team plays hard,'" Thomas said. "If you mix in playing hard, with talent and sharing the ball, you're going to be tough to beat."