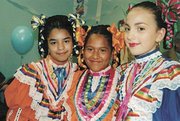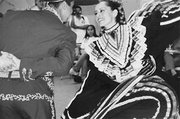 <strong>FOR MOST,</strong> this year's Mardi Gras celebration is a hazy memory. But in the Mexican state of Veracruz, located on the Caribbean in the southeastern part of the country, Mardi Gras has just begun.
<p>Mardi Gras, or Carnaval as it is known there, is celebrated in Veracruz and other coastal Mexican states during Lent, a week and a half before Easter Sunday, rather than on Fat Tuesday the day before Lent starts.
<p>"It's a huge celebration but its only regional," said Laura Ortiz, an Arlington resident and former Mexican citizen. "It's really tied into the religious celebration that people go through … The intent is cleansing and clearing all the bad things that happens so it brings good fortune to the town."
<p><strong>ORTIZ</strong> knows a thing or two about Mexican traditions. She's the founder and executive director of Los Quetzales, a dance troupe that seeks to spread Mexican culture in the Northern Virginia area.
<p>Formed in 1997, the group performs folkloric dances from a variety of different Mexican states and regions, from the Mariachi-inflected north to the West Indian-influenced south. They also perform indigenous dances from pre-Hispanic eras.
<p>Next week, Los Quetzales will be performing traditional Carnaval dances, along with many others, at a concert in Arlington. Ortiz and her dancers will be performing folkloric dances from the states of Baja California, Durango and Nayarit along with the Veracruz Carnaval dances.
<p>A lifelong dancer since her childhood in Mexico City, Ortiz said that she has always known that expressing herself through movement is her calling. "It's the need for artistic expression," she said. "Once you've danced it is something you can't get away from."
<p><strong>THE CONCERT</strong> is being co-sponsored by Arlington County's Cultural Affairs Department.
<p>Mary Briggs, a unit head in the department, said that the County chose to support Ortiz because "She's really a veteran in the community. She's always been very willing to come out in the community and share and teach her art form. She's dedicated to having it known in the general population."
<p>While Arlington has a nearly 20 percent Hispanic population according to 2000 Census data, less than three percent of the county's population was born in Mexico or is of Mexican descent.
<p>"Although Los Quetzales would appear to represent a small portion of the region's Hispanic community," the group's spokesperson Francisco Macias said, "The dancers and members of Los Quetzales comprise a variety of people of different ethnicities, different national ancestries, and different interests."
<p>According to Macias, those attending next week's concert should expect an evening of Mexican tradition brought to life through colorful costumes, lively songs and, of course, vivid dancing.
<p>"They can expect to see a very traditional show," he said. "Now, that doesn't mean bland … If we are to get a glimpse of something from the past, then we need to see it through the eyes of a preservationist and I think Laura Ortiz, is a pragmatic preservationist."