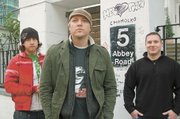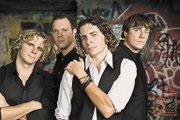 "If people realize how good you are, it doesn't even matter what your band name is, it's automatically cool," said Shane Hines of Shane Hines and The Trance. "The whole cliché of the cream rising to the top is true."
However, the process of finding the right one usually turns out to be far less sensational than one might imagine. "I'm pretty sure we were in traffic one day, saw the word 'Transportation' on the side of bus, and someone said, 'How about The Trance?'" said Hines.
A good or bad label, the aforementioned "automatically cool" theory is holding up quite nicely. The Washington Area Music Association presented The Trance, which also includes bassist Brian Keating and drummer Kevin Bearce, with 2008's Best Rock Band award. Elsewhere, their music has been highlighted on MTV's "The Hills" and "The Real World."
The fact that the name of Fairfax rockers Everyone But Pete came about via similarly unsystematic measures may or may not give license to Jim Fanale's teasing request to "make [them] sound better than Shane Hines." The band, mostly James Madison University alumni, lived in a house with roommate Pete, who inhabited the entire basement. "He was the only one who lived in the house and wasn't in the band," said Fanale. "We had booked a show and needed a band name. That probably wasn't the smartest thing to do, but it worked out well."
Considering the number of loyal fans sporting "EBP" tattoos at local shows, the name has caught on. As winners of 2006's DC-101's Last Band Standing Competition, they won the chance to play in front of 15,000 Chili Cook-off attendees. "Seeing all our fans pack together and sing along was really amazing," said Fanale. "Plus, what's better than watching [headliner Tonic] a band you grew up on playing 3-feet away?"
All band-naming and joking aside, the Northern Virginia music scene is based on a connection between local musicians, not a central genre. "The local scene has been really great to us," said Fanale. "Shane Hines, the Blackjacks, Welbilt … they're all bands we've learned a lot from. We've climbed a bunch of ladders but this home base has helped us out along the way."
Coming back to Virginia from a recent, invitation-only event at London's infamous Abbey Road Studios, Hines admitted that Northern Virginia wasn't necessarily known as a music hub. "I moved here because it's right in the middle of where I'm always going, south or north," he said. "But, there are so many different kinds of bands here. There's no representative sound, which is great."
BOTH BANDS ARE enthusiastic about the inventiveness that music allows. Along with Fanale, Everyone But Pete guitarist Andrew Van Horn, drummer Chris Lane and bassist Brian Fanale, focus on involving people by leaking secret shows and after-parties to fans. In addition, they celebrated their recent Budweiser sponsorship at TT Reynold's in Fairfax with a Jimmy Buffet-style, island-themed party.
The Trance's charitable partner, Donate Life America, will join with both bands on April 4 in Vienna at Jammin' Java with giveaways and a raffle to support the organization.
In a completely different way, Hines experiments with genre and new instruments. "I've been asked to write a children's album," he said. "Songwriting is driven by emotion, having an overwhelming sense to communicate something. Now I have to write like 12 songs about the zoo."