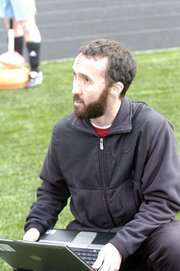 <b>Coach:</b> Ryan Douds, first season
<b>2007 Record:</b> 6-6-1
<b>Key Losses: </b>The Warhawks graduated 12 seniors from last year's squad.
<b>Key Players:</b> The Warhawks return two players with varsity experience this year.
<b>Quotable:</b> "We are trying to build up some consistency here." – head coach Ryan Douds
<b>Outlook:</b> As Ryan Douds takes over as the head coach of the Madison boys soccer team, he becomes the third head coach in as many years for the Warhawks, so it is easy to understand that consistency is the first thing that Douds hopes to bring the Warhawks.
"What we are hoping for is a consistent attitude. What we are trying to build is a successful season, but more than anything, building character and being consistent with that attitude," said Douds.
A positive for Douds is that he will be able to start with a clean slate, as Madison graduated 12 seniors from last year's squad. In fact, only two current Warhawks have previous varsity playing experience.
"There is not a lot of attitude, so as far as that goes, it makes it easy," said Douds. "However, without any experience, it has been a little bit difficult to get them up to varsity speed."
Douds' first order of business has been to blend the two types of players that the Warhawks have – street ball players and traditional players. According to Douds, street ball players are dynamic players and like to do work individually with the ball. Traditional players are more team-oriented and like to move the ball around.
"Both styles are great, we are just trying to put them together and make something of it," he said. "It is going to come around. By the end of the season, we should be moving."