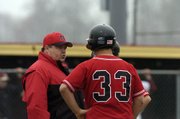 <b>Coach: </b>Mark Gjormand, 13th season (207-74)
<b>2007 Record: </b>21-3
<b>Key Losses:</b> INF Rich Conlon, P Jason Farley, OF/P Sterling Sams, P Brad Wimmer, 1B Arman Moniri, C Alex Andrews, 3B Brian Smith
<b>Key Players:</b> C/OF Collin Flaherty, SR; INF Brig Tison, SR; 3B Andrew Schrock, SR; 2B/OF Kyle McIntrye, SR; P Ted Williams, SR; P Jesse Jeter, SR.
<b>Quotable:</b> "I definitively think that there is some unfinished business. There is no question about that." – Madison head coach Mark Gjormand.
<b>Outlook:</b> Losing nine seniors, all integral parts of his team, is nothing new for Madison head baseball coach Mark Gjormand. In 2003, fresh off of a 29-0 record and AAA state championship, the Warhawks graduated 12 seniors – and went on to take their second-straight Northern Region championship.
"You have to deal with it," said Gjormand. "Consistency is the key to a strong program. We feel like we do a pretty good job developing. We are really excited about where we are at. We are in a good situation."
While the Warhawks lost six full-time starters from last year's squad, Gjormand will field 15 seniors, two of whom have already signed to play college ball next year.
"We lost a lot of players but we aren't young by any stretch of the imagination," said Gjormand.
Those returning seniors also have a little bit of unfinished business. Last year, the Warhawks claimed their fifth district title in six years, but fell to Oakton in the Northern Region semifinals. The previous year, the Warhawks dropped to the Cougars in the region quarterfinals.
"It is never easy to lose, but especially to a school so close," said Gjormand. "It doesn't leave a bitterness, but it is on their mind."