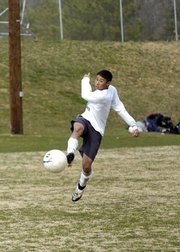 <b>Coach:</b> T.J. White, 12th season
<b>2007 Record:</b> 3-10-1
<b>Key Losses:</b> M Ben Shebib, F Philippe Millogo, D Pat Miller, GK Tim Maline, GK Justin Epperson
<b>Key Players:</b> M Omar Ismail, JR; D Jacob Merlin, JR; M Edward Barr, SR.
<b>Quotable:</b> "It comes down to attitude and effort to us. That is how we are going to determine our success." – head coach T.J. White.
<b>Outlook: </b>The Oakton boys soccer team would like to keep last year in their rear view mirror. After a tough 10-loss season and last place finish in the Concorde District, head coach T.J. White is stressing two things to avoid a similar result.
"We aren't worried about last year, that is in the past. We control what we can control, which is our attitude and our effort. We aren't worried about any other teams or what we did last year," said White. "There is a chance that we could be outplayed, but I would doubt that we will be outworked. That is pretty much my attitude this season."
The Cougars return a core of talented players, including senior midfielder Edward Barr, junior midfielder Omar Ismail and junior defender Jacob Merlin.
With Merlin controlling the Cougars' backfield, White hopes that Ismail will become Oakton's leading playmaker and a role model for the younger players.
"We are hoping that he leads by example," said White.
White, in his 12th season with the Cougars, led Oakton to three-consecutive district titles between 1999 and 2001. In 2001 the Cougars took the Northern Region title and advanced to the AAA Virginia state final.
"When we have players that will abide by the rules and the guidelines, we will win. If they don't buy in, then we won't win," said White of repeating Oakton's success of seven years ago. "Our strength has to be our chemistry. It has to be our attitude and it has to be our effort."