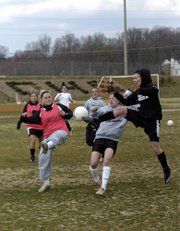 <b>Coach:</b>Edward Brown, second season (6-8)
<b>2007 Record:</b> 6-8
<b>Key Losses:</b> GK Dana Gleich
<b>Key Players:</b> S Devin Grimm, SR; D Halley Hardtke, SR; M Karen Strat, SR; M/F Nicole Peters, SR; Alex Straton, SO
<b>Quotable:</b> "Oakton is my retirement job. I am basically at Oakton for as long as I am in the area. I plan on being at Oakton for 30 years." – head coach Edward Brown
<b>Outlook:</b> Practice have been a little more intense this year for the Oakton girls soccer team. Head coach Edward Brown has noticed his five seniors enter the 2008 season on a mission.
"They are not goofing around at all. They want to end their high school career with having done something," said Brown.
Over the past three years, the Cougars have not posted a winning record and have failed to advance to the Northern Region tournament.
"The seniors have never been on a winning team," said Brown. "They have never progressed out of the first game of the district playoffs."
In fact, the Oakton girls soccer team has never won a district, region or state title.
"I would love to predict that this year will change that, but I am also a realist," said Brown, starting his second year with the squad. "If I come in and we win a lot and everybody is happy, great, but there has to be something more than just banners. It will be very interesting to see how things go. I have a great group of seniors and that helps tremendously."
Brown, with 12 years of college and professional coaching experience is heavily involved in helping his players reach the next level. Three of this year's seniors will play soccer in the fall at the next level. Sweeper Devin Grimm, who Brown calls, "one of the best sweepers and most intimidating players in the state," will play for St. Mary's next year. Midfield Karen Strat will play at Stonybrook, while forward Nicole Peters will play at George Mason.