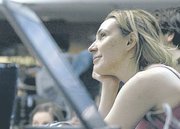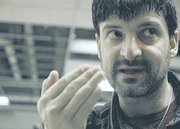 Paata and Irina Tsikurishvili went up to the stage at the Warner Theatre Monday evening more often than anyone else as the 2007 Helen Hayes Awards were announced at the annual gala. Five times one or the other or both were called to the stage to receive awards for work on two of their Synetic Theatre shows, "Macbeth" and "Hamlet … the rest is silence" and one other time one of their cast members went to the stage alone to pick up his award.
"Macbeth" alone drew five awards, as many as any other theater received. It was recognized with awards as the Outstanding Resident Play of the year as well as for Outstanding Supporting Actor (Philip Fletcher), Outstanding Sound Design (Paata Tsikurishvili and Irakli Kavsadze), Outstanding Choreography (Irina Tisikurishvili) and Outstanding Direction of a Play (Paata Tsikurishvili). Adding to the luster of Synetic's evening was the presentation of the Canadian Embassy Award for Outstanding Ensemble in a Resident Play, which went to the entire cast of Synetic's "Hamlet … the rest is silence."
Irina Tsikurishvili has all but owned the Helen Hayes Award for Choreography since she and her husband burst on the Washington theater scene in 1999. Since then, not a year has gone by without her being nominated for the choreography award, sometimes more than one nomination. She has received the award four times in the nine years.
Paata Tsikurishvili has been only slightly less dominant on his own with direction nominations in five of the nine years. This year is the second time he has walked away with the award.
SIGNATURE THEATRE, which is celebrating its fifteenth season with a new facility in Shirlington is no stranger to the Helen Hayes awards. Prior to this year they had drawn over two hundred nominations and work on their shows had won 50 times. Add five to that total now, with awards for work on three 2007 shows. Mark Kudisch won the Outstanding Lead Actor in a Musical award for "The Witches of Eastwick." That show also earned the Outstanding Musical Direction award for Jon Kalbfliesch, his fifth award in the category over the past ten years. Erik Liberman won for Outstanding Supporting Actor in a Musical for Signature's "Merrily We Roll Along," and E. Faye Butler and Karlah Hamilton tied for the Outstanding Supporting Actress in a Musical for "Saving Aimee" and "The Witches of Eastwick," both at Signature.
It was a good night for Signature's Artistic Director, Eric Schaeffer even though he wasn't able to attend the ceremony. He's in New York right now directing his second Broadway show, the musical "Glory Days" which he directed at Signature and which now, in a very rare occurrence, is transferring directly to Broadway's Circle in the Square Theatre. Not only did his company draw five awards, two more went to a show he directed at Ford's Theatre in Washington, "Meet John Doe." Schaeffer won the Outstanding Direction of a Musical award (in a tie) which is his fifth win in that category. If Irina Tsikurishvili has dominated the choreography category, Schaeffer has been even more dominant in the director category, being nominated for at least one show every year since 1992, sometimes twice.